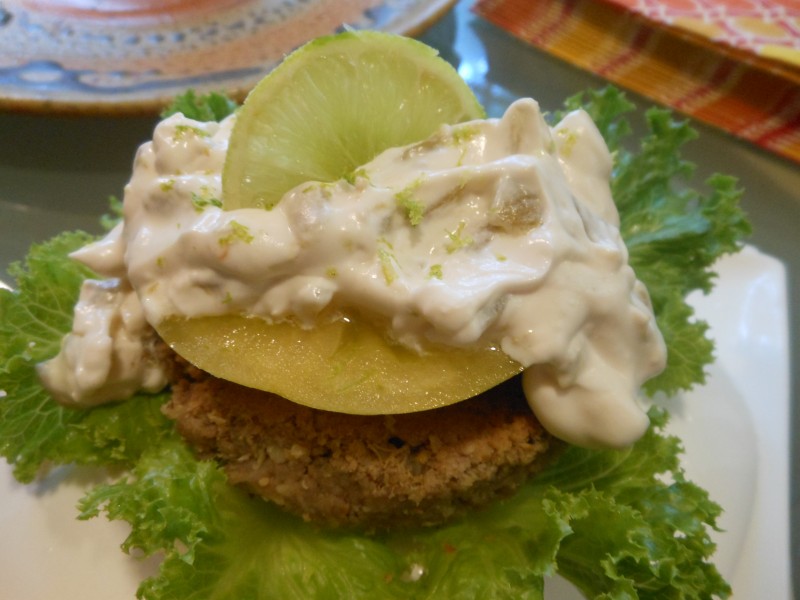 Yield: 4 burgers
I love developing recipes, like these "Go Bean" green-themed burgers, exclusively for Tofutti Brands, Inc! 
These simple, delicious and nutritious Mexican-spiced patties hold together beautifully and their pleasantly chewy texture is the perfect counterpoint to their spicy-tart Green Chili "Cream Cheese" Topping made with Tofutti Better Than Cream Cheese.
Lima beans may sound odd for a bean burger–though you can use whatever bean you prefer–but I had some fresh ones on hand from our farmer's market; and they are, in fact, what spawned the whole "green" approach: butter lettuce instead of a bun, a thick slice of green tomato, the Green Chili "Cream Cheese" Topping with lime zest, and a garnish of fresh lime.
And about that topping:  it's delicious on these burgers, but it would be fabulous on an old shoe…it's that good!  Your beef burger-eating friends will be green with envy!
Note that Tofutti makes two types of Better Than Cream Cheese and Better Than Sour Cream, one with transfat and one without, each in its own color carton.  So read the nutrition information to make sure you purchase the one you prefer. 
1 3/4 cup fresh cooked lima beans (or 1-15.5 ounce can of your favorite bean, rinsed and drained)
1/3 cup walnuts (or your favorite nut)
1/3 cup uncooked oatmeal
1/3 cup vital wheat gluten
1/2 teaspoon sea salt
1/4 teaspoon freshly ground black pepper
3/4 teaspoon ground cumin
1/2 teaspoon onion powder
1/4 teaspoon garlic powder
1 teaspoon Liquid Aminos or soy sauce
1/4 cup olive oil, divided
Optional: 1 tablespoon water
4 toasted hamburger buns or 4 butter lettuce leaves
4 slices green tomato
Green Chili-"Cream Cheese" Topping (recipe follows)
Optional Garnish: lime zest and/or thin slices of lime
Place all ingredients, except tomato, topping, and bun–using only 1 of the tablespoons olive oil and optional water–in a food processor and pulse until mixture is well combined.  Then run motor for a few seconds until mixture holds together; avoid over processing.  Shape mixture into 4 patties about 3/4-inch thick.  Heat 1 tablespoon of oil over medium-high in a large cast iron skillet.  Add patties and cook 5 minutes or until golden brown, adding another tablespoon of oil and swirling around pan if needed halfway through.  Flip, add remaining tablespoon of oil, swirl, and cook another 5 minutes to brown remaining side.  Place each patty on a bun or lettuce leaf, top with a slice of tomato and 1/4 of the sauce, and serve immediately.  Garnish, if desired, with lime zest and/or thin slices of lime.
Green Chili-"Cream Cheese" Topping
8 ounces Tofutti Better Than Cream Cheese
1 can chopped green chilies, drained
Zest of 1 small lime
In a small bowl, heat cream cheese for about a minute in the microwave or until very soft and stir-able.  Add green chilies, salt and pepper, and stir to combine.