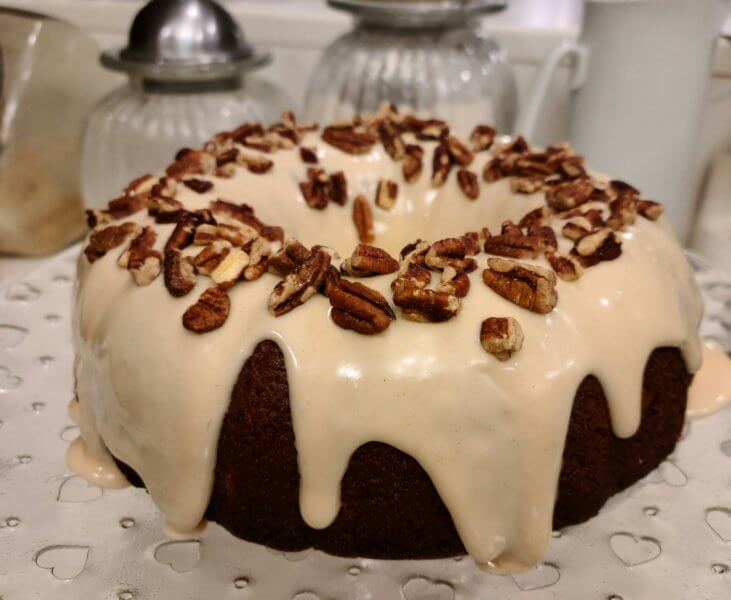 I made this beautiful bundt for Bob's dad's socially-distanced outdoor 89th birthday gathering for 9 and 2 on FaceTime. The surprise ingredient of a can of apple pie filling insures extra moistness and fall flavors.
3/4 cup vegetable oil
1 1/2 cup sugar
3 cups flour
2 teaspoon baking powder
1/2 teaspoon baking soda
1/4 teaspoon sea salt
2 to 4 tablespoons non-dairy milk
1 tablespoon molasses
1 teaspoon vanilla
1/2 teaspoon almond extract
20 ounces apple pie filling (I leave the slices whole, but you could chop or mash)
Optional: Maple-Cinnamon "Cream Cheese" Glaze (recipe follows)
Garnish: 1/2 cup chopped pecans and, optionally, 8 apple chips or dried apple slices
Preheat oven to 350 degrees. Grease and flour a 10-inch Bundt pan. Combine oil and sugar in large bowl of electric mixer. Beat at medium speed about a minute to dissolve sugar. Add remaining ingredients and beat a couple more minutes or just until completely combined, stopping to scrape down sides of bowl as necessary. Spoon batter evenly into pan and gently smooth top. Bake approximately 45-50 minutes or until toothpick inserted in center comes out clean. Cool 10 minutes, invert onto wire rack, and cool completely. Spoon Glaze around top and let cascade down inside and outside. Garnish with chopped or whole pecans and optional apple chips.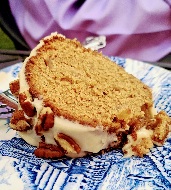 Maple-Cinnamon Cream Cheese Glaze
2 ounces firm tofu (I use regular for body)
1/4 cup vegan butter
1 tablespoon maple syrup
1 teaspoon vanilla extract
1/4 teaspoon almond extract
1/4 teaspoon pure lemon extract or zest of 1 small lemon
1/2 teaspoon cinnamon
Approximately 4 cups powdered sugar
In bowl of large food processor, process all ingredients except powdered sugar for a few minutes or until completely smooth. Add half of powdered sugar and process until smooth. Repeat with remaining powdered sugar. Add additional powdered sugar if necessary to reach desired consistency.
#vegan #veganrecipes #veganfoodshare #veganfoodporn #plantbased #plantbasedrecipes #plantbasedfoodshare #plantbasedfoodporn #veganbundtcake #plantbasedbundtcake #veganapplebundtcake #plantbasedapplebundtcake