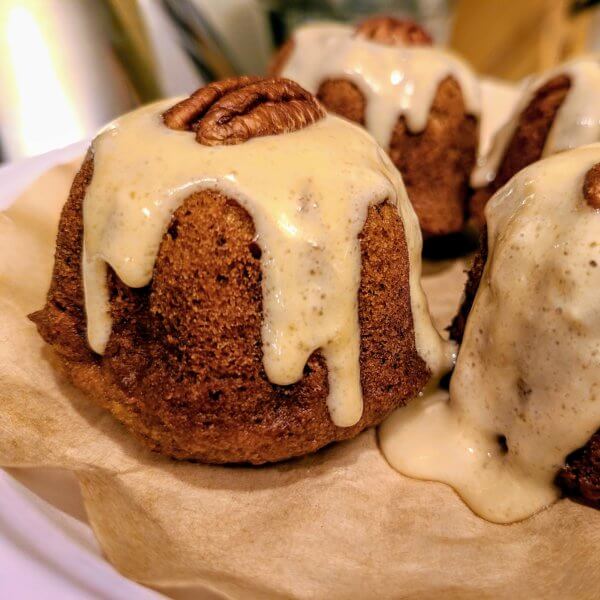 Yield: 1-10 inch Bundt cake or 12-18 minis
I resigned my former art teaching position with our big public school district after 16 years to accept one at a private school chartered in 1728. The faculty and staff are so lovely and helpful that I am baking a cake to thank someone a couple times a week.
Not wanting to invent them from scratch and risk fails–or look up a recipe–every time. I decided I need an easy to remember formula that can be adapted. After some research and experimentation, I am excited to share my approach.
My "formula" for delicious, moist, never fail cakes is, essentially, a 1:2 ratio of oil to sugar and sugar to flour.  For 3/4 cup oil, 1 1/2 cup sugar, and 3 cups flour, 2 teaspoons baking powder and vanilla extract and 1/2 teaspoon baking soda and sea salt plus 1/4 to 1l2 cup nondairy milk is the perfect base for whatever else you want to stir in.  If the latter is especially moist, like applesauce, you might use the smaller amount of non-dairy milk; if dry, like cocoa powder or maybe oatmeal, the greater amount.
1 1/2 cup sugar (or 1/2 cup sugar and 1/2 cup brown sugar)
3 cups flour
1 1/2 teaspoon cinnamon, apple pie spice, or pumpkin pie spice
1 1/2 teaspoon baking powder
3/4 teaspoon baking soda
3/4 teaspoon sea salt
3/4 cup oil
1/4 cup non-dairy milk
1 1/2 teaspoon vanilla
3 pureed bananas
1 finely chopped/processed apple, stemmed and seeded
Optional: Brown Sugar Maple Glaze (recipe follows) + chopped pecans or halves for garnish
Preheat oven to 350 degrees. Grease and flour a 10-inch Bundt pan. Combine dry ingredients in large mixing bowl. Make a well in center and pour in wet ingredients plus banana and apple. Whisk well to combine. Spoon batter evenly into pan. Bake approximately 45-55 minutes (or 20-25 for mini Bundts) or until toothpick inserted in center comes out clean. Cool 10 minutes, invert onto wire rack, and cool completely. Spoon Glaze over and allow to drip down sides. Garnish, if desired, with pecans.
Brown Sugar Maple Glaze
1cup powdered sugar
1/4 cup brown sugar
2 tablespoons maple syrup
1/4 teaspoon vanilla extract
Whisk together until no lumps remain, adding more powdered sugar or maple syrup to reach desired consistency, if necessary.
#vegan #veganrecipes #veganfoodshare #veganfoodporn #plantbased #plantbasedrecipes #plantbasedfoodshare #plantbasedfoodporn #veganbundtcake #plantbasedbundtcake