Yield: 1-10 inch bundt pan
Feeling confident after successfully veganizing my go-to poundcake from years ago (read the backstory and find the recipe here), I decided to try my luck with the Southern Living Cream Cheese Pound Cake that was published in this month's issue; the one that had me thinking about pound cake to begin with.
I am pleased to announce it was another vegan- and meatatarian-approved success. In fact, Bob said he liked it even better than its forebear. Picking for me would be like choosing a favorite dog, so you please be the judge.
Both have all the characteristics that I favor: a thick-ish, tender-chewy crust and a density that shouldn't be confused with heaviness. But, if it is possible that this one is even more moist than the other, it is, courtesy the cream cheese which also lends a pleasing and subtle tang.
Veganegg is the key to the rise, the structure, and the texture of my pound cakes. But, almond extract is one of the keys to the cakes' delectable flavor.  It masks the savoriness of the Veganegg that comes from the black salt which gives the product its convincing sulphery, eggy taste.
3 cups flour (I use white whole wheat)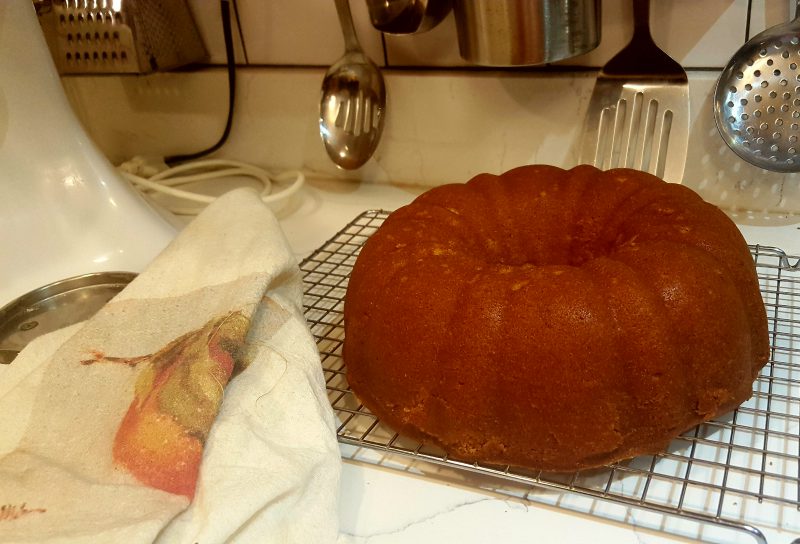 3 cups granulated sugar (I use organic cane sugar)
1 1/2 cups vegan butter at room temperature (I use Earth Balance)
8 ounces vegan cream cheese (I use Tofutti)
5 Veganeggs (10 tablespoons Veganegg powder whisked until smooth and completely combined with 1-1/4 cups ice water)
1/4 cup vegan buttermilk (1/4 cup soymilk whisked together with 2 teaspoons apple cider vinegar; it will curdle and thicken in about 1 minute)
1 tablespoon vanilla extract
1 to 2 teaspoons almond extract
Optional: 1 teaspoon salt
Preheat oven to 350 degrees. Grease and flour a-10-inch bundt pan. Place all ingredients in the 4-quart bowl of a heavy-duty electric stand mixer. Beat at low speed for one minte, scraping down sides as necessary. Then beat at medium speed for 2 minutes. Transfer batter to prepared pan, gently smooth top, and bake for 1 hour and 20 to 30 minutes or until a wooden pick inserted near center comes out clean. Cool 10 minutes in pan on wire rack. Then turn out onto rack and cool completely covered with a dish towel. Store tightly covered.