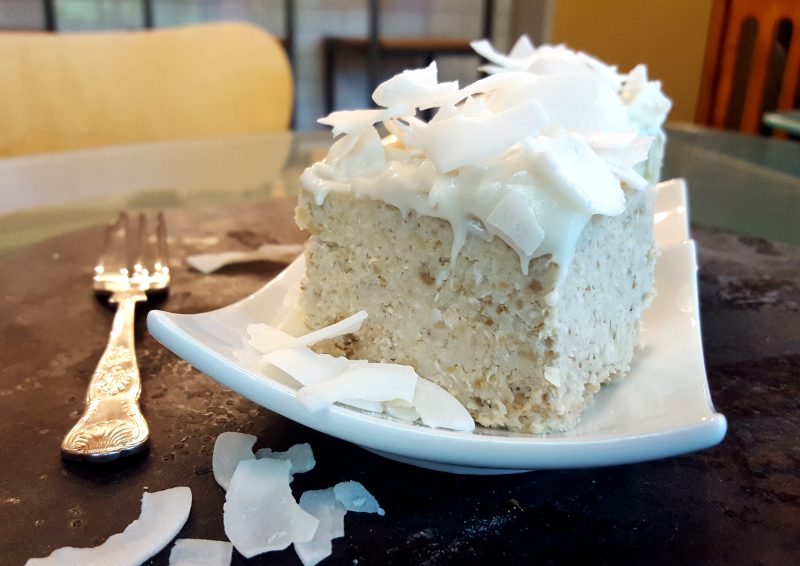 Maybe it's the warming weather, or maybe it is less patience with the steps required to bake properly and well: mixing, preparing the pan, cooking time, cooling in the pan, turning out of the pan, cooling on the rack, and so on.  Okay, or less patience with most things…
But, regardless, (practically) raw vegan food has been on my mind lately.  I conducted some online research and I bought a couple of (disappointing) cookbooks.  My take-away?  This niche of vegan "cooking" holds great promise, but there is room for fairly vast improvement. So I got to work.
My (Practically) Raw Vegan Carrot Cake was a vegan and omni triumph.  But one of my other favorite cakes is coconut. The challenge, it seemed to me, was how to keep the color of the cake light, like a baked coconut cake, and the favor pure:  no dates, apricots, etc.  
At Whole Foods yesterday, I decided to spin through the dried fruit in bulk.  Eureka!  Turkish dried figs are light in color, yet plump enough to add some moisture and earthy sweetness.  Sweetened coconut flakes and coconut flour–essentially coconut ground to a flour–were no-brainers–and I deemed oatmeal, which provides lots of structure, light enough and neutral enough in flavor to help build the "batter."   Blanched slivered almonds (use raw if you prefer)–nicely pale in color and not too buttery in flavor–were the perfect nut to use.  One glimpse and I knew coconut sugar was too dark in color, so I bought some powdered sugar which I needed for the frosting, but the cake ended up being sweet enough with nothing more than a small amount of light amber maple syrup.  And a liquid sweetener is nice because of the amount of dry ingredients.
For moisture, I did end up using 1/2 cup applesauce–but it does not impart a noticeable apple flavor–and coconut milk.  A word about the latter:  So Delicious makes an astonishingly thick and velvety coconut milk that they call "Culinary Coconut Milk."  It is high in calories, so you might consider the "lite" version.  Either way, I would combine a carton of it–about 1 1/3 cups–with canned coconut milk which is not quite so thick and helps achieve a nicer, less dense, batter or, really, for raw cakes, more like a "dough."   
In short, I do believe I met the challenge.  And I think you will be absolutely swept away by the results.
This cake is so beautiful and beautifully textured and flavored that it would be lovely for a wedding cake…not that I'm planning a wedding or anything…
Note: if you want a raw vegan frosting, substitute something like a cashew buttercream.
Yield: 16 servings
8 Turkish figs, stemmed and quartered
2 cups old-fashioned oats
3 cups fairly thick coconut milk (or a combination of So Delicious Culinary Coconut Cream and soy or other non-dairy milk)
2 cups grated sweetened coconut
1 cup blanched slivered almonds
1 cup coconut flour
1/2 cup unsweetened applesauce
¼ cup maple syrup
2 teaspoons vanilla extract
1/2 teaspoon almond extract
1/2 teaspoon sea salt
Cream Cheese Frosting (recipe follows)
Garnish: 1/2 cup coconut curls
Line 8″ square pan with foil. Pulse all ingredients in food processor, a couple of ingredients at a time, alternating with coconut milk, until a homogenized, but textured, dough-like consistency is achieved.  Press in pan, frost with cream cheese frosting, and garnish with coconut curls.  Cover with foil and keep refrigerated. 
Cream Cheese Frosting
Note: you may have a little left over if you use the 2 cups of powdered sugar.)
8 ounces vegan cream cheese
1/4 cup coconut oil (solid at room temp)
1 teaspoon vanilla
1/2 teaspoon coconut extract
1 to 2 cups powdered sugar (depending on consistency desired)
Process until smooth.