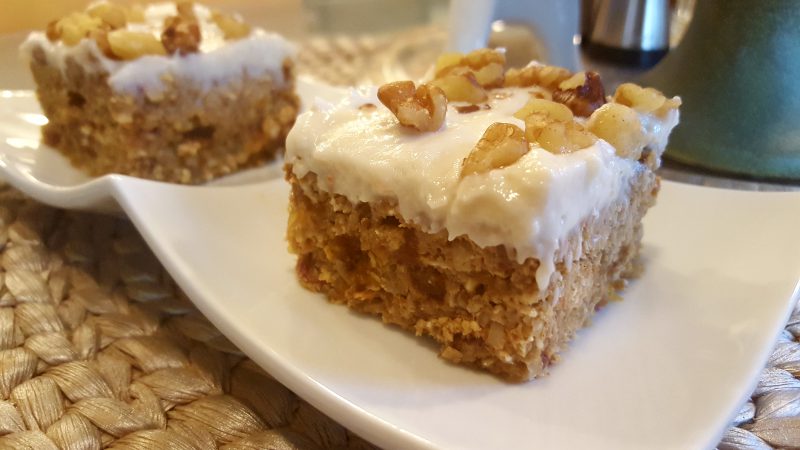 Yield: 1-8 inch cake
This, my first foray into (practically) raw vegan desserts, may be the best cake, baked or virtually raw, you have ever eaten. I hope that doesn't sound boastful, but my omni friend said as she chewed, eyes squeezed shut, "This is like church."  So, it is omni and vegan–and teen and adult- approved.
Note: if you want a raw vegan frosting, substitute something like a cashew buttercream.
11-12 ounces baby carrots or carrot pieces
8 Medjool dates, pitted and quartered
8 plump dried apricots, quartered
2 cups old-fashioned oats
½ cup sweetened shredded coconut
1/2 cup unsweetened applesauce
¼ cup agave nectar
1 teaspoon vanilla extract
1 teaspoon cinnamon
1/2 teaspoon sea salt
1/4-½ teaspoon nutmeg
1/2 cup walnut pieces
Cream Cheese Frosting (recipe follows)
Garnish: 1/4 to 1/2 cup walnut halves or pieces
Line 8″ square pan with foil. Pulse all ingredients in food processor, a couple of ingredients at a time, until a homogenized, but textured, dough-like consistency is achieved.  Press in pan, frost with cream cheese frosting, and garnish with walnut halves or pieces.  Keep refrigerated.
Cream Cheese Frosting
8 ounces vegan cream cheese
1/4 cup coconut oil (solid at room temp)
1 teaspoon vanilla
1 to 2 cups powdered sugar (depending on consistency desired)
Process until smooth.