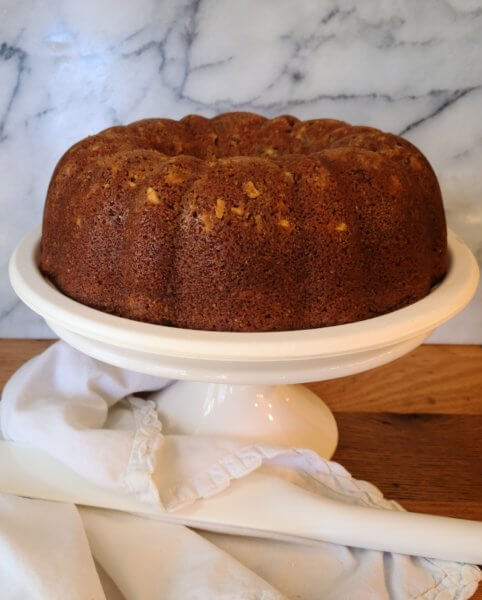 I created this cake to share with a dear friend for her birthday in memory of her dad, who loved a black walnut-orange cake, as she is selling the family home during her birthday week. Today, Veterans Day, we enjoyed a still-warm slice with mid-morning chai on her eclectic artsy patio near the beach.
Streusel:
1/4 cup flour
1/4 cup brown sugar
3/4 cup coarsely chopped black walnuts (or nut of your choice)
1/4 cup softened vegan butter
1 cup non-dairy milk
2 tablespoons apple cider vinegar
3/4 cup vegetable oil
1 cup natural sugar
1/2 cup brown sugar
2 teaspoons vanilla extract
Zest of 2 medium oranges
1 cup fresh squeezed orange juice
Oprional: 1 tablespoon orange liqueur
3 cups flour (I use white whole wheat)
2 teaspoons baking soda
1/2 teaspoon baking powder
1 teaspoon sea salt
Grease and flour 10-cup bundt pan. Preheat oven to 350 degrees.
Place all streusel ingredients in small bowl and crumble together with fingers. Set aside.
Whisk together non-dairy milk and vinegar in a small bowl and set aside to curdle. In a large bowl of electric mixer beat together oil and sugars for a couple of minutes at medium speed, scraping down sides of bowl as necessary, adding vanilla and orange zest at the end. Add both liquids (curdled nondairy milk and orange juice) and flour, alternating, about 3/4 cup at a time, beginning and ending with flour. Beat in baking soda, powder, and salt. Crumble streusel evenly into bottom of bundt panel. Pour batter over and gently smooth top. Bake 45 minutes or until wooden pick inserted in center comes out clean. Cool 10 minutes in pan; invert onto wire rack to finish cooling or enjoy while still warm.
#vegan #veganrecipes #veganfoodshare #veganfoodporn #plantbased #plantbasedrecipes #plantbasedfoodshare #plantbasedfoodporn #veganorangebundtcake #plantbasedorangebundt cake