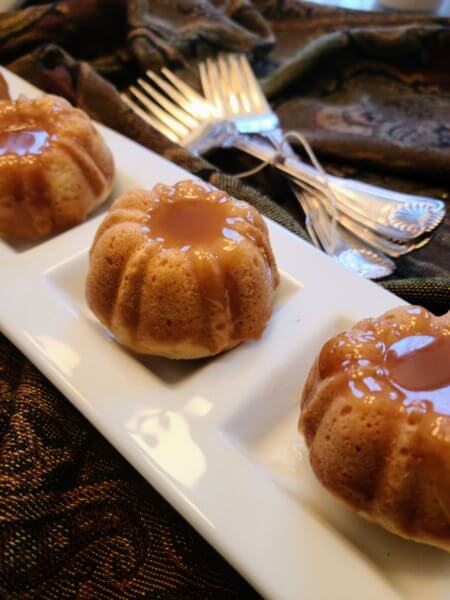 Glazed Amaretto (or Rum) Mini Bundt Cakes
Yield: 12-2-inch mini bundt cakes
On a recent hike, my friend and A+ history teacher, Linda Francis, had been waxing poetic about a former colleague's Glazed Amaretto Mini Bundt Cakes, as well as a rum version, that she would bring in every Christmas, which caused a ripple of excitement down the social studies hall. I could not stop thinking about them.
My first attempt to recreate them, based on Linda's description, as well as to veganize them, was an utter down-the-dislosal fail, but it was worth it to get to this version. Dense enough to be a very close cousin of a pound cake, they are light enough to have a springiness about them.
The flavour is deeply almondy–or rummy–and the rich glaze is somewhere between a syrup and a caramel. I have no idea if they are anything like the originals, but it doesn't matter: these will become standards in our house.
Glazed Amaretto (or Rum) Mini Bundt Cakes
1/2 cup butter (I prefer Miyoko's), room temperature
1 cup granulated natural sugar
1 tablespoon baking powder
1/2 teaspoon almond extract
1/2 teaspoon vanilla extract
2 cups all purpose flour
2/3 cup nondairy milk (I use unsweet soymilk) curdled with 1 tablespoons apple cider vinegar
1/4 cup + 2 tablespoons Amaretto liqueur, Bailey's Almande or rum (I like spiced rum)
Amaretto or Rum Glaze (recipe follows)
Preheat oven to 350. Spray 12-cup mini bundt cake pan with nonstick spray. With electric mixer, cream together butter and sugar until fluffy. Add baking powder, extracts, half of flour, half of non-dairy milk, and 2 tablespoons Amaretto, Almande, or rum. Beat on low or medium speed just until combined, scraping down sides of bowl as necessary. Repeat with remaining non-dairy milk and 2 tablespoons Amaretto, Almande, or rum. Divide evenly among mini bundt cake cups. Bake approximately 17 minutes or until set and a toothpick inserted in center comes out clean. Let cool a couple of minutes and then brush the tops with remaining 2 tablespoons Amaretto, Almande, or rum. Let soak in and then remove cakes from pan to slightly cool on wire rack set over a baking sheet. Meanwhile make glaze and spoon evenly over cakes. Spoon up what drips onto baking sheet and drizzle over the tops of the cakes again. These cakes are delicious served warm as well as room temperature.
Amaretto or Rum Glaze
1/2 cup Amaretto, Bailey's Almande, or rum (I like spiced rum)
1/4 cup water
1l2 cup granulated natural sugar
2 tablespoons butter (I prefer Miyoko's)
Simmer together all ingredients in a saucepan over medium heat for a couple of minutes or until slightly reduced and thickened. The longer you simmer, the thicker the mixture will become and you want to avoid creating caramel.
#vegan #veganrecipes #veganfoodshare #veganfoodporn #plantbased #plantbasedrecipes #plantbasedfoodshare #plantbasedfoodporn #plantbasedalmondcake #veganalmondcake #plantbasedbundtcake #8veganbundtcake