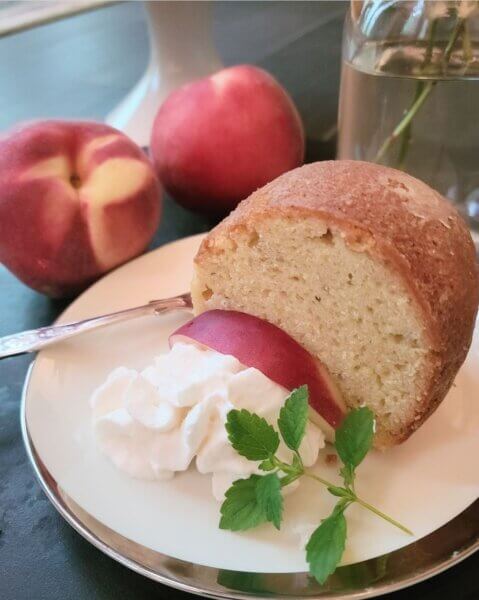 When summer gives you peaches, make Peach Poundcake. All you need is a few minutes of hands-on time.
No fussy creaming or alternating ingredients. Just combine all in a bowl and pop in the oven.
3/4 cup vegetable oil
1 1/2 cup sugar
3 cups flour
2 teaspoon baking powder
1/2 teaspoon baking soda
1/4 teaspoon sea salt
4 tablespoons vegan peach schnapps like Archers + more for brushing on (or substitute peach nectar)
4 tablespoons non-dairy milk
1 teaspoon vanilla
1/2 teaspoon almond extract
2 very ripe pureed peaches (I use my Magic Bullet)
1 pureed banana (or substitute a third very ripe peach)
Accompaniments: non-dairy whipping cream, sliced or chopped ripe peaches, and/or non-dsury vanilla ice cream or peach sorbet
Preheat oven to 350 degrees. Grease and flour a 10-inch Bundt pan. Combine all ingredients, except accompaniments, in a large mixing bowl and whisk well to completely combine or use the low speed of an electric mixer, scraping sides of bowl often. Spoon batter evenly into pan and gently smooth top. Bake approximately 45 to 50 minutes or until toothpick inserted in center comes out clean. Cool 10 minutes, invert onto wire rack, brush with 3 or so tablespoons schnapps, and cool completely. Serve with desired accompaniments.
#vegan #veganrecipes #veganfoodshare #veganfoodporn #plantbased #plantbasedrecipes #plantbasedfoodshare #plantbasedfoodporn #veganpoundcake #plantbasedpoundcake #veganpeachcake #plantbasedpeachcake