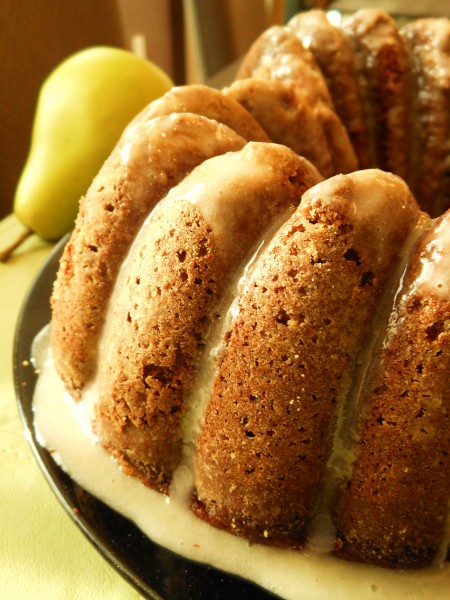 Yield: 1 bundt cake
As I said in the card that accompanied this cake when I dropped it off to Independence Veterinary Hospital, where we have taken our pets for MANY years, "Thank you for many years of setting my mind at ease and easing me through when the news was unsettling."
I decided to make them a little token of appreciaiton following my frantic Facebook message to our vet's wife, Kim, who manages the practice, in which I said, "Minnie just ate about 10 olive pits before I took them out to compost!  Is she going to be okay?"  The answer was, "She'll be fine," and led to a funny–and disgusting–exchange about what our dogs have gotten into.
According to the thank you note  she wrote, "the guys"– make that our vet, Brian Hastings, and his vet tech, son and one of our beloved dog-sitters, Dusten Keith–were dubious about eating a vegan cake.  The horror!  But evidently, "they loved it too."
And so will you!  The complex caramel-y notes of the organic cola adds depth to the flavor while the carbonation does wonderful things to the texture.  Enjoy!
2 1/2 cups all purpose flour (I use white whole wheat)
2 teaspoons baking powder
2 tablespoons ground ginger
2 teaspoons cinnamon
1 teaspoon five spice powder
1/2 teaspoon ground cloves
1/2 teaspoon sea salt
1 cup molasses
1 cup real maple syrup
1/2 cup unsweeted soymilk (plain would also be fine)
1/4 cup soy sour cream
1 tablespoon grated orange zest
1 cup canola oil (or other mild vegetable oil)
1 cup organice cola, such as Blue Sky Cola or China Cola (Stout beer is a tasty alternative to cola)
1 teaspoon baking soda
Cinnamon-Sour Cream Glaze (optional)
Preheat oven to 350 degrees.  Grease and flour a bundt pan.  In a large bowl, combine all of the dry ingredients, except baking soda, make a well in the center, and add all wet ingredients, except cola.  Whisk to completely combine.  In a small bowl or cup, whisk soda into cola.  It will fizz up.  Quickly whisk into batter until completely incorporated.  Transfer the batter into prepared bundt pan and bake for approximately 45 minutes or until a wooden pick inserted in the center comes out clean.  Remove to a wire rack, and cool for about 15 minutes.  Loosen around all edges with a knife, being careful not to slice into the cake.  (I use a plastic knife, as my pan has a non-stick surface, but I still grease and flour it!)  Place serving plate over the top of the pan and invert the cake onto the plate.  Let cool and then glaze if desired.
Cinnamon-Sour Cream Glaze
1 cup powdered sugar
1 tablespoon orange juice (preferably, fresh squeezed) + additional for thinning if necessary
1 tablespoon vegan sour cream
1/4 teaspoon ground cinnamon
1 tablespoon grated orange zest (optional)
In a small bowl, whisk together all ingredients until very smooth.  Thin with additional orange juice if necessary.  Using a spoon, drizzle over cake.  Garnish with a sprinkling of grated orange zest if desired.