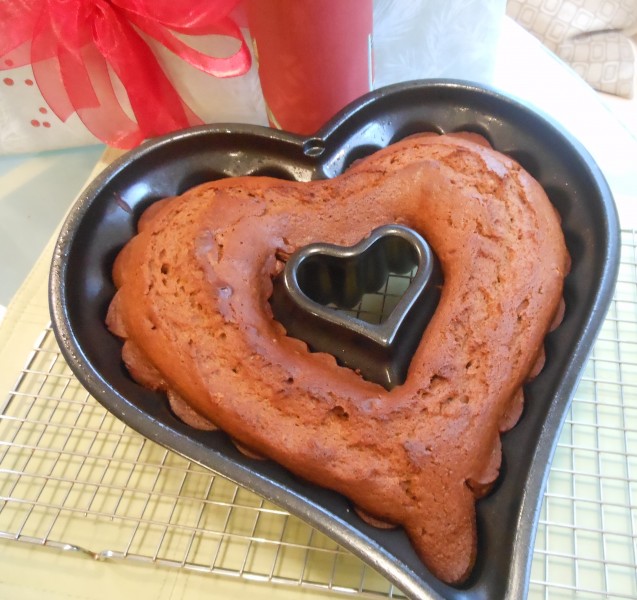 I don't know about you, but I am still in gift-giving mode; just didn't get it all done before the holidays due, in large part, to the passing of our dearly beloved Great Dane, Huff.
In fact, some of the important people who were still on my list were the docs and staff at Independence Veterinary Hospital.  So, I woke up this morning and made this luscious Lemon Spice Bundt Cake whose batter is almost as delectable as the baked cake.
No sugar?  No problem.  I make this cake with molasses, maple syrup, and cola (choose an organic brand) for extra moisture and depth of flavor.  Love the caramely-y hnotes of the cola.
If you don't keep pumpkin pie spice on hand, which I do, as I think it's balance of spices is hard to beat, just combine ground cinnamon, cloves, ginger and nutmeg to equal the amount of spice called for in the recipe, using more cinnamon and ginger than the other two.
My husband, who is not much of a sweet eater, thought it smelled heavenly lying in bed.
2 1/2 cups unbleached all-purpose flour (I actually use white whole wheat)
2 teaspoons baking powder
1 teaspoon baking soda
3 tablespoons pumpkin pie spice (that sounds like alot, but this is a deeply spiced cake)
Optional: 1/2 teaspoon Five Spice Powder (for a hint more complexity of flavor)
1/2 teaspoon sea salt
1 cup vegetable oil (a nuetrual flavored one, like canola)
1 cup maple syrup
2/3 cup molasses
1/2 cup soymilk
1/2 cup cola (organic)
Zest of 1 large lemon
Preheat oven to 350.  Oil a bundt pan.  (I use a non-stick bundt pan sprayed with nonstick spray and no flour.  But if you are a "greased and floured" kind of baker, go right ahead.  The ridges in my heart-shaped bundt pan make flouring a chore and it works fine without.)  Combine all dry ingredients in a large bowl and whisk to combine.  make a well in the center and add all wet ingredients plus lemon zest.  Whisk just until smooth.  Transfer batter into prepared pan, gently smooth top, and bake in the center of oven for 40 to 45 minutes or until a wooden pick inserted in the center comes out clean.  Remove from oven and cool in pan on a wire rack for 10 minutes.  Invert onto rack and cool completely or serve slightly warm.  Wrap well to store.