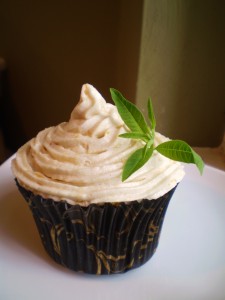 Yield: 12 regular size cupcakes (or a single 8-inch layer; double the recipe to make an 8-inch layer cake)
This cake has quite a provenance.  When I baked the vegetarian version in 1997 for my friend Yvette's birthday, she and her husband, Randy, both sophisticated foodies, pronounced it , "the best cake we've ever eaten."
The next year, another good friend, Sonya Harmon, and I made it for our director at the Contemporary Art Center of VA, Barbara Bloemink's, wedding.  It was a huge hit, as guests weren't taking dainty slices but hefty slabs.
And, finally, Sonya's mother, Sandy, entered it in a church baking contest and won top honors. (We suspect the contest is a thinly-veiled excuse for the men of the church to eat lots of scrumptious cakes.)  The cake is definitely a winner, but I don't even remember from whence the original recipe hailed.  I want to say Southern Living Magazine.
Why I haven't made it in over a decade, I can't imagine.  And why I picked now, I'm not sure, except that I was watching "Cupcake Wars," got excited about slightly out of the ordinary flavors, remembered this cake, and decided it was high time I veganize it.  My dairy-free version is at least as good–and I think better–than the original.   And, though I made it as cupcakes, feel free to double the recipe and make it as a layer cake.
When I made the vegetarian original, I "cheated" and used a Duncan Hines Moist Deluxe "French Vanilla" cake mix.  The main difference between garden-variety "vanilla" and "French vanilla," is a rich "eggy" taste, as well as a caramel-like depth of flavor with "floral notes."  So, I caramelized the sugar and used a real vanilla bean for this vegan rendition.   Wow!
I suppose that making a cake with a dried peach filling at the height of peach season is almost blasphemous, so try it with fresh if you like; you just might need to "tighten up" the filling with a little cornstarch. Regardless of how you decide to fill it, it will quickly become a favorite.
Note: Make and chill the Vegan Chantilly Whipped Cream for the Vegan Peach Butter Whip Frosting the day before you plan to use it.
Vegan French Vanilla Cupcakes/Cake:
1 cup soymilk
1 tablespoon apple cider vinegar
3/4 cup sugar
2 tablespoons soymilk
1 1/4 cups white whole wheat flour (if you want them to be more delicate, use unbleached all-purpose flour)
1 teaspoon baking powder
1/2 teaspoon baking soda
1/4 teaspoon salt
1/3 cup canola oil
1 vanilla bean, split, and seeds scraped out with the sharp tip of a knife
1 teaspoon vanilla extract
1/4 teaspoon almond extract
Dried Peach Filling (recipe follows)
Vegan Peach Butter Whip Frosting (recipe follows)
Optional Garnishes: a tiny slice of fresh peach and a mint leaf; a dot of Vegan Chantilly Whipped Cream and a lemon verbena or mint leaf; etc.
In a small bowl, whisk 1 cup of soymilk with vinegar and set aside to curdle.   Preheat oven to 350 degrees.  Line a regular-size 12-cup muffin tin with cupcake papers.  In a large cast iron skillet over medium-high, stir sugar for 2-3 minutes or until it begins to look moist.  Add the 2 tablespoons of soymilk and cook, stirring constantly, until creamy, heated through, and slightly more golden in color, about 2 more minutes.  Set aside to cool.   In a large bowl combine dry ingredients and make a well in the center.  Add oil, vanilla bean seeds, and both extracts to the curdled soymilk and pour into the well.  Whisk wet and dry ingredients together just until well-combined and no lumps remain.  Divide batter evenly among cupcake papers; they should be about 2/3 full.  Bake 20-22 minutes or until a pick inserted into the center of one of the cupcakes comes out clean.  Remove cupcake tin to a wire rack to cool for 10 minutes.  Then remove cupcakes from the tin and allow them to cool completely on the wire rack.  When cupcakes are cool, top each with about 1/12 of the filling and frost with 1/12 of the frosting.  I like to pipe it on in a spiral using a large star tip.  Garnish as desired.  If not serving immediately, or if there are leftovers, store in an airtight container in the refrigerator.   Leftovers?  What leftovers?
Dried Peach Filling:
1 3/4 cup dried peaches or peach pieces
1  1/2 cups water
1/4 cup natural sugar
2 tablespoons agave nectar or light corn syrup
Combine peaches and water in a 2-quart saucepan and bring to a boil.  Cover, remove from the heat, and let stand 30 minutes or until peaches are soft.  Add sugar and nectar and bring to a boil.  Reduce heat and gently simmer for 15-20 minutes or until most of the liquid has evaporated (not all of the liquid or it will be too stiff).  Remove from the heat and process the mixture until smooth.  Cool.
Vegan Peach Butter Whip Frosting:
1/2 cup + 2 tablespoons vegan butter, softened
1 pound powdered sugar
1 teaspoons vanilla extract
1/8 teaspoon almond extract
3/4 cup cashew Chantilly Whipped "Cream" (recipe follows)
4 tablespoons peach filling
Beat together at medium speed vegan butter, 1 cup powdered sugar, and vanilla and almond extracts until fluffy.  Then add remaining powdered sugar alternately with Chantilly Whipped Cream, beating after each addition to combine well.  Add peach puree and beat an addition minute and a half on high speed until the frosting is smooth, very fluffy and holds peaks.
Vegan Chantilly Whipped Cream
2 cups raw cashews, divided
1 1/4-1 1/2 cups water, divided
2 tablespoons fresh lemon juice
1/4 cup + 2 tablespoons natural sugar or, for a lighter color, granulated or powdered sugar
1/2 teaspoon vanilla extract
In a small bowl, combine 1 cup raw cashews and water.  Cover, and let sit for 8 hours or over night.  (I like to begin the soaking process in the morning so that I can make the Cream in the evening and let it chill overnight before using.)  Rinse and drain well.  In the bowl of a food processor, combine soaked cashews, cashews, 1/4 cup water, lemon juice, sugar and vanilla.  Process until very smooth, thick and creamy.  Chill.   Reserve remaining Chantilly Whipped Cream in an airtight container in the refrigerator for another purpose.
For 150+ additional seasonal recipes not on this website, I invite you to explore The Blooming Platter Cookbook: A Harvest of Seasonal Vegan Recipes.