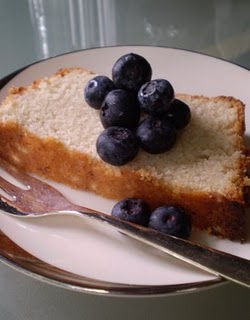 Yield: one 5 x 9″ loaf cake
As a vegetarian, I had many go-to recipes that were perfection personified. My pound cake recipe from Southern Living magazine was the ultimate. When I became a vegan, I set out in pursuit of an eggless, dairyless replacement. After some disappointments, I found this amazing recipe at A Vegan For Dinner's blog.  (I Have removed the link as it is now someone's anti-aging blog.)  I can scarcely recommend this recipe highly enough. It works beautifully every time and, while its simple goodness is perhaps best savored unadorned, I garnished a slice with a few farm fresh berries for the photo. It would also be delicious with a drizzle of my Cream Cheese-Orange Sauce posted with my Carrot Cake Pancakes. And it's spectacular grilled; a sweet ending to your summer BBQ.
I've changed the order of ingredients and how they are put together just a little, increased the amount of extracts and increased the baking time by 5 minutes. But, otherwise the recipe is virtually unchanged.
1/2 cup vegan butter, softened (I like Earth Balance)
1 1/2 cups granulated or raw sugar (I use granulated)
6 ounces (one half of a box) plain or low fat Silken firm tofu (blending or processing first assures no lumps)
2 cups unbleached all-purpose flour
1/2 cups water
2 teaspoons vanilla extract
1 teaspoon almond extract
2 teaspoons baking powder
Preheat oven to 350 degrees. Lightly grease a 5 x 9″ loaf pan. Cream together butter and sugar with an electric mixer on medium speed until fluffy. Beat in tofu until well combined. Add 1 cup flour and, with mixer on low, mix just until incorporated. Add water and extracts and do the same. End with remaining cup of flour and baking powder. Increase speed to medium and beat for 1-2 minutes. Spoon mixture into pan and lightly smooth the top. Place on the center rack of the oven and bake for 55 minutes.
Source: http://aveganfordinner.blogspot.com/