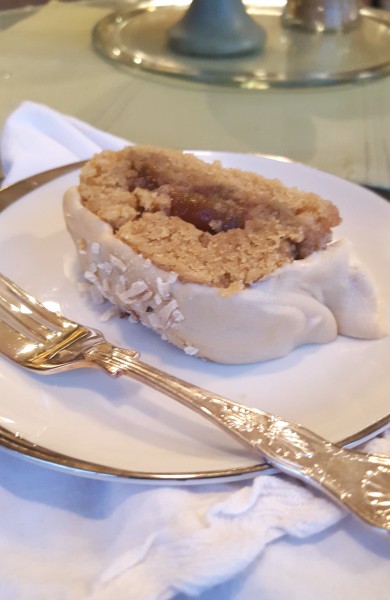 Yield: approximately 12 servings
The secrets to a rolled vegan cake revealed…
A rolled sponge cake made with eggs is child's play, as the protein in the eggs add just the right pliable structure necessary to hold it together as it smoothly spirals like wrapping paper around a spool.
Not so much with vegan cakes.  It took me four attempts to get it right.  In the end, it turned out to be both a matter of ingredients and rolling technique (thank you Martha Stewart via my good friend, Sonya Harmon, who witnessed one of my epic fails).
In terms of ingredients, I ended up adding a couple of tablespoons of flaxseed meal as an egg substitute.  I don't think you'll find a single other recipe on this website that calls for flaxseed meal as it simply isn't necessary or, sometimes, even desirable for most baked good.  For this one (an my other rolled cakes), it is critical.
Also, though I am not a big fan of xanthan gum–it quickly creates kind of a slippery, slimey, glue-like texture if you don't use a very light hand, and is as expensive as heck–less than a teaspoon is key to the success of this recipe. (Here, a bag costs almost $12 on Kroger's organics aisle.  I recommend buying a bag and sharing with a gluten-free baker friend.)
And, finally, sprinkling a hand towel with confectioner's sugar–not granulated sugar as Martha Stewart recommends–turning the cake out onto it, and rolling it up with the soft towel, instead of the crinkly parchment paper used to line the pan, is essential.
Lastly, trimming the edges of the cake–so that even the slightest bit of browning doesn't create a "crust" that refuses to bend nicely–and  not unrolling the cake completely flat to fill will yield the most satisfying results.
Vegan Vanilla Cake Log with Fig Preserve Filling and Caramel-Cream Cheese Frosting
1 cup soy or other non-dairy milk
2 teaspoons apple cider vinegar
2 tablespoons flaxseed meal
1 1/4 cups all purpose flour (I use white whole wheat)
3/4 cup natural granulated sugar (I use demerera)
2 tablespooons cornstarch
3/4 teaspoon baking powder
3/4 teaspoon xanthan gum
1/2 teaspoon baking soda
1/2 teaspoon salt
1/3 cup canola or other neutral vegetable oil
1 tablespoon vanilla extract
1 cup Fig Preserves (or any preserves you prefer), brought to room temperature or gently warmed
Caramel-Cream Cheese Frosting (recipe follows)
Optional garnishes: shredded toasted coconut,, toasted if desired, chopped nuts, etc.
Preheat oven to 350 degrees.  Spray a rimmed 10 x 15″ pan with non-stick spray.  Line with one sheet of parchment paper and spray lightly again.  Sprinkle a tea towel with a little powdered sugar in a 10 x 15″  rectangle.  Set aside.
In a small bowl, whisk together soymilk, vinegar, and flaxseed meal and set aside to curdle, making a thickened vegan buttermilk.  In a large bowl, whisk together flour, sugar, baking powder, xanthan gum, baking soda, and salt.  Make a well in the center and pour in canola oil, vanilla extract, and soymilk mixture.  Whisk together for 100 strokes until smooth.  (Whisking for a portracted time like this will develop gluten and, hence, structure.)  Transfer batter into prepared pan and gently smooth into the corners.  Bake for 12 to 13 minutes or just until a wooden pick inserted in the center comes out clean.  Allow to cool in pan for 3 minutes and then invert onto prepared tea towel.  Carefully peel off parchment paper.  With a very sharp knife, trim 1/8 inch of cake from all of the edges.  Working from a long side, fold the excess inch or so of towel over the edge of the cake and carefully roll up like a jelly roll.  Tuck edges under and allow to cool completely on a wire rack.  Carefully unroll, avoiding trying to flatten the cake completely.  Gently spread with preserves.  Reroll and place seam side down on a serving platter, nestling it onto a flattened side from the previous rolling.  Frost with Caramel Cream Cheese Frosting and garnish with shredded cooconut and/or nuts.  Serve immediately or cover, refrigerate, and bring to room temperature before serving.
Caramel-Cream Cheese Frosting
1 cup vegan butter, divided in half
1 cup packed dark brown sugar
1/2 cup (4 ounces) vegan cream cheese
1 teaspoon vanilla
4 to 5 cups confectioner's sugar (1 pound box)
Up to 1/4 cup non-dairy milk or creamer (e.g. soy, coconut, almond)
Optional for a frosting with even more body: up to 1/2 cup vegetable shortening
In a small saucepan, melt 1/2 cup butter over medium-high.  Stir in dark brown sugar and simmer, stirring, for 2 to 3 minuutes or until a deeper brown with a caramel-y aroma; lower heat if necessary.  Remove pan from heat and pour caramel into a bowl.  Cool and then chill, covered, for a couple of hours or until cold.  Using an electric mixer, beat remaining half cup butter and cream cheese until fluffy.  Beat in chilled caramel mixture and vanilla until well combined.  Beat in powdered sugar, 1 cup at a time, thinning with non-dairy milk if desired.  For a frosting wtih even more body, beat in vegetable shortening, a couple of tablespoons at a time, again until desired texture is achieved.