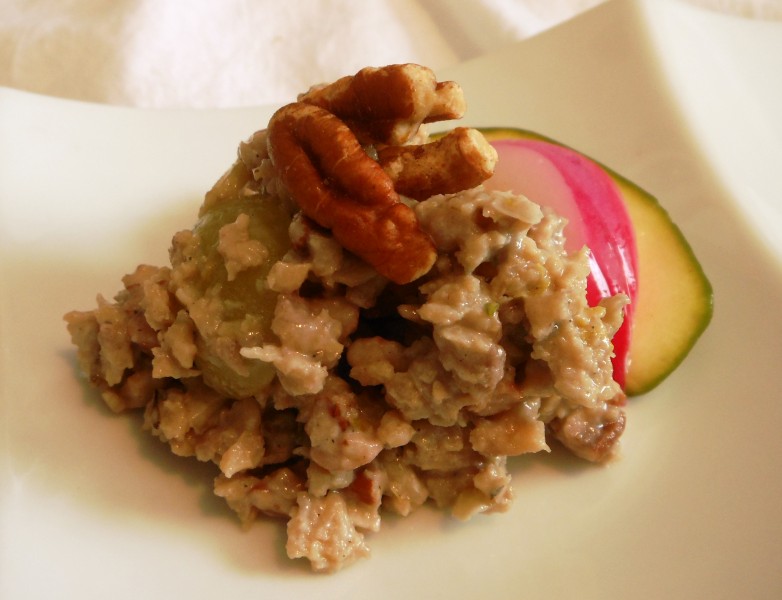 I grew up in the Deep South where a tasty chicken salad is a staple in every cook's recipe files.  I haven't eaten chicken for many years, but I still love the combination of flavors, so you will find quite a few vegan renditions here on The Blooming Platter (just enter "chicken salad" in the search box).
This version was inpired by a luscious one I saw Ina Garten prepare on "The Barefoot Contessa."  I substituted textured vegetable protein (TVP) for the chicken–though all of my other recipes call for seitan–as that's what I had on hand.
I loved both the flavor and texture and know you will too!
TVP got a bad rap when I was in school; we regularly mocked the "hamburger" patties made with TVP, a meat substitute and extender, favored by high-volume cooks for it's low cost, high protein content, versatility and long shelf life.  Little did I know back then that I would grow up to seek out TVP and sing its praises!
2 cups coarse TVP (textured vegetable protein)
2 cups water
1 bouillon cube
1 bay leaf, torn in half
1 teaspoon rubbed sage
1/2 teaspoon dried thyme
1/2 teaspoon garlic powder
Sea salt to taste
Freshly ground black pepper
1 cup finely chopped celery (I use a food processor for this task)
1 cup lightly salted toasted chopped pecans (toast with a sprinkle of sea salt at 350 degrees in a single layer for 5-7 minutes or until slightly more golden brown and toasted in flavor)
1 1/2 cups green grapes, halved (or quartered, your preference)
3/4 cup vegan mayo (more or less to suit your preference)
In a 2-quart (medium) saucepan, bring water, bouillon cube, halved bay leave, sage, thyme, garlic powder, and sea salt together.  Stir in TVP and simmer, stirring frequently, until moisture is absored, or about 5 minutes (it goes very quickly).  Season with black pepper.  Check for seasoning and adjust if necessary.  Transfer to a medium size mixing bowl, add remaining ingredients, and stir gently until completely combined.  Use as you would any chicken salad.  I love it atop cucumber slices or crackers, or in a sandwich or wrap.