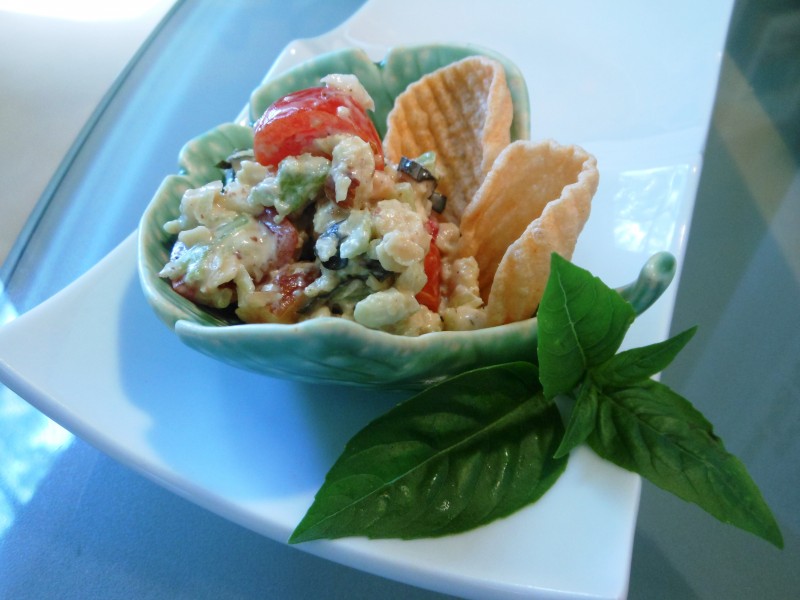 Yield: 4 servings
I have created quite a few no-chicken salad recipes from seitan, tempeh, and textured vegetable protein.  (To find them, just search "chicken salad" here on The Blooming Platter or consult the index of TBP cookbook.)
This tempeh version, made with two of the glories of summer–tomatoes and basil–is made even more addicting with the addition of smoky and crunchy almonds plus a little celery.
There is something about the saltiness of the almonds playing off the sweetness of the tomatoes with a hint of that herby freshness from the basil that is utter perfection.  Every rendition I create becomes my new favorite so, for now, this no-chicken salad is my "favorite."  I think it is destined to become a classic and hope you agree!
(I am participating in Virtual Vegan "Linky" Potluck  with this recipe.  Follow the link to discover other tasty potluck contributions.)
1-8 ounce package tempeh, cut into 8 pieces, lightly oiled and salted,  baked for 15 minutes at 350 degrees, and slightly cooled
1/2 cup smoked almonds
4 stalks celery, cut into 2-inch pieces
1/2 cup quartered grape tomatoes
2 tablespoons chopped basil or chiffonade (stack leaves, roll, and slice very thinly)
1/2 cup vegan mayonnaise
Sea salt to taste
Freshly ground black pepper to taste
Crumble tempeh into a medium bowl.  Process smoked almonds and celery until finely chopped and add to tempeh along with remaining ingredients.  Toss all together and refrigerate to allow salad to chill and flavors to marry. Serve as you would any such salad, though I like it especially well scooped up with veggie chips.