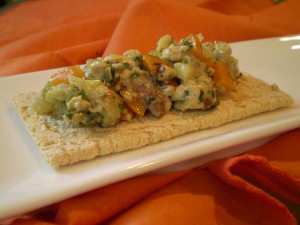 As a teacher, figuring out what to do for a healthy, quick, and satisfying, but not heavy, lunch is always a bit of an issue.  Believe it or not, I often get a little something in our school cafeteria because I can almost always count on some kind of dark leafy greens, not to mention a hot meal that doesn't involve a microwave.  And the cafeteria workers are so solicitous of my vegan diet.
I created this salad a week ago on Labor Day, as school started the day after, thinking that I would start the week with my own greens–I had some leftover from a restaurant spinach salad–in this really tasty and beautifully textured Tarragon-Tempeh Salad made into a sandwich.  In addition to the spinach, I happened to have a package of tempeh that needed to be used, some leftover pre-diced onion and orange bell pepper from some nachos, and chopped pecans leftover from some mini apple bundt cakes. 
I enjoyed it all week, never tiring of it on Nature's Own whole grain 100 calorie sandwich bread with some fresh Romaine hearts.  For the photo, I piled a bit of it on a Wasa cracker.  Served that way, it still delicious and a little fancier.  You could serve it to comapany as an appetizer without them ever knowing it's a lunch box standard!
2 tablespoons olive oil
1-8 ounce package tempeh, any flavor (mine was a flax variety from Trader Joe's)
sea salt
1/2 of a medium yellow onion, cut into 1/4-inch dice
1/2 of an orange pepper, cut into 1/4 inch dice
3/4 cup finely chopped fresh baby spinach
2 stalks of celery, finely diced
5-6 tablespoons of vegan mayo
1 tablespoon fresh tarragon, or 1 teaspoon dried
1/4 cup pecan pieces, lightly toasted if desired
freshly ground black pepper
In a large cast iron skillet, heat 1 tablespoon of olive oil over medium heat.  Crumble tempeh into the skillet, add a pinch of salt, and saute, stirring frequently, for about 3 minutes.  Add remaining tablespoon of olive oil, onion, and bell pepper and continue sauteeing and stirring for another 3 minutes.   Adjust seasoning with salt.  Remove mixture to a shallow bowl to cool slightly.  Meanwhile, combine all remaining ingredients, except pepper, in a medium bowl (I mix it right in a lidded storage container).  Stir in tempeh mixture just until well combined, and season to taste with more salt and pepper.  Store covered in the refrigerator.  To make into a sandwich that won't be eaten for a few hours, consider transporting the filling and bread separately, and make the sandwich just before enjoying.  Or if you prefer to go ahead and make it, spread a tiny bit of additional vegan mayo on one side of both slices of bread–or inside a pita pocket–before filling, as the mayo will create a barrier that will help prevent the bread from getting soggy.   This salad is also delicious stuffed into a fresh tomato or eaten with celery sticks and/or crackers or toasts.