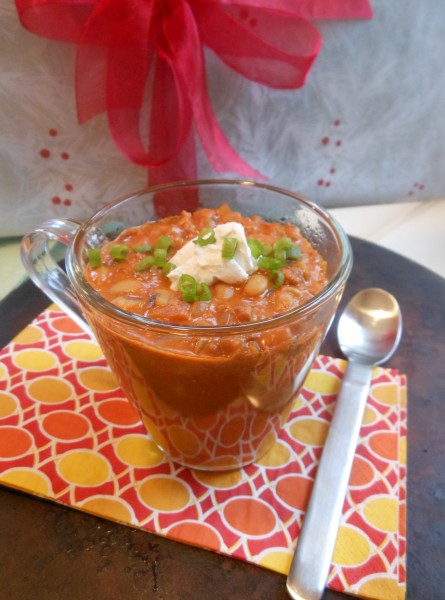 Happy New Year, all !
You still have time to shop for groceries and make this simple and simply delicious chili for dinner…and you'll be glad you did.
When I was visiting my parents and sister in MS over Christmas, they were enjoying a batch of legendary chili shared with them by our longtime family friend, Anne Crumbley.
The base looked delicious–a little less "tomato-y" than some–so, though it was made with meat, I sampled just a little of the base and knew I had to have the recipe, which my mother happened to own in her impressive files.
The secret ingredient?  Picante sauce!  My secret ingredient for even more mellowness?  Tofutti cream cheese!  But, you can omit if you prefer.
Yesterday, for my New Year's Eve post, I shared some of my black eyed pea favorites from the past, but I wanted a new black eyed pea recipe–not to mention lunch–to celebrate 2015.  Considering lots of options, from some kind of fritter to gumbo to black eyed pea sausage–all of which I still want to try–it suddenly occurred to me that I could substitute black eyed peas for Ann's black beans.  Holy Moly!
I tweaked her recipe only slightly in order to add a bit more "umami" depth and richness since I would most certainly not be using meat, and I hope you love the results as much as I do.
Top your chili with whatever you choose.  I like sour cream and sliced scallions; but Ann also recommends Fritos.  I cannot be trusted with an open bag of those, so I never buy them.  But if you can, more (will)power to you!
2 tablespoons olive oil
1 medium onion, diced (about 1 cup)
Sea salt
2 large cloves minced garlic
12 ounces soy crumbles, tempeh, or your favorite ground "round" substitute (tempeh is typically sold in 8 ounce packages so use 1 or 2 for 8 or 16 ounces; don't feel you need to split a package)
1 1/2 tablespoons smoked paprika (or chili powder; Ann's recipe calls for the latter, but I was out of it
and I loved the smoked paprika)
1 tablespoon nutritional yeast
1 teaspoon ground cumin
1 teaspoon dried oregano
1 teaspoon turbinado sugar
1 teaspoon Liquid Aminos
Freshly ground black pepper
2 cups cooked black eyed peas ( 1 used frozen, thawed, but you can substitute an approximate 15 ounce can, rinsed and drained, or beans cooked from the dried state)
2 cups vegetable broth
1 cup picante sauce (I used Pace brand)
Optional but recommended: 1/4 cup vegan cream cheese (I use Tofutti Better Than Cream Cheese)
Recommended toppings: vegan sour cream (I use Tofutti Better Than Sour Cream), sliced scallions, sliced black olives, roasted pumpkin seeds, sliced jalapenos, etc.
In a large heavy pot (like a Dutch oven) or even a wok, heat 2 tablespoons olive oil over medium-high.   Add onion and a pinch of salt and saute, stirring frequently, until translucent, about 3 to 5 minutes.   Add garlic and continue sauteing, stirring constantly, for 30 seconds.  Add soy crumbles, smoked paprika nutritional yeast, cumin, oregano, sugar, Liquid Aminos, and pepper, and cook, breaking up crumbles, until heated through and all ingredients are well combined.  Add black eyed peas and heat through, stirring frequently.  Then add broth and picante sauce.  Bring to a simmer and cook for 30 minutes, stirring occasionally, and reducing heat as necessary to insure that chili does not stick on the bottom.  During the last 2 minutes, melt in the vegan cream cheese.  Serve chili in mugs or bowls, topped as desired or allow guests to top their own from a toppings bar.