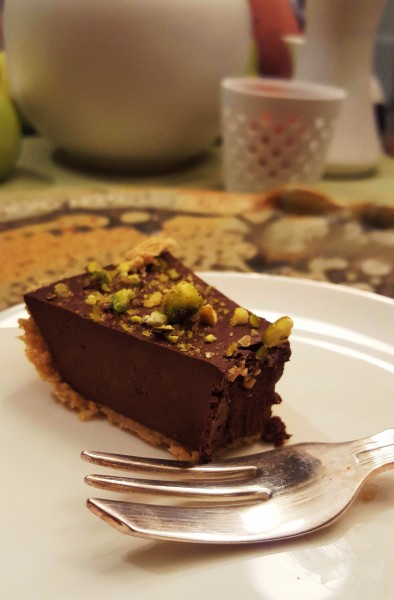 Yield: 8 to 12 servings (it is decadent and rich, so a thin sliver may do the trick)
This recipe began its life as No Bake Chocolate Cake (which is really more of a terrine) at 101 Cookbooks.
But, my enterprising friend, Barbara Gelpi, simply poured the mixture into a crumb crust–homemade or purchased, plain or chocolate–and voila!: the densest, richest, most delectable tart imaginable with not a bit of tofu in sight.
Though I happen to love tofu, the absence of it removes all the soy, to which some folks are averse, while also removing the need for a food processor.  Considering that my new dog Patsy "retrieved" the blade from the counter where it was draining and ruined it by chewing up the plastic part only–thank goodness–that is a good thing.
Barbara and her husband, Juan, joined me in the preparation of a delectable vegan Moroccan meal last night, so Barbara's addition of a pistachio garnish was perfectly fitting and tasty, and the green was such a pretty contrast with the warm reddish-brown of the chocolate.  But use any nut you like or no nuts at all.
This tart is sure to become a staple and all of your friends will ask you to bring it when they invite you for dinner.  Heck, they may invite you to dinner just so you'll bring the tart!
8 ounces vegan chocolate (at least 70% cocoa)
1 cup almond milk
1/2 teaspoon allspice, cinnamon, chili powder, etc.
2 teaspoons espresso
1/2 teaspoon sea salt
1 crumb pie crust
Optional topping: 1/4 cup coarsely chopped pistachios or your favorite nut
Melt the chocolate on the stovetop or in the microwave.  Heat the milk with the spice of your choice, the espresso, and the salt just bubbling.  Whisk the chocolate into the milk.  Allow to cool and thicken a bit, and then pour into crust.  Sprinkle with nuts,  and chill a couple of hours or until cold throughout and set.  It should be firm enough to slice beautifully.  Note: to make peanut butter version, melt 2 tablespoons smooth peanut butter with chocolate and sprinkle top with coarsely chopped peanuts.