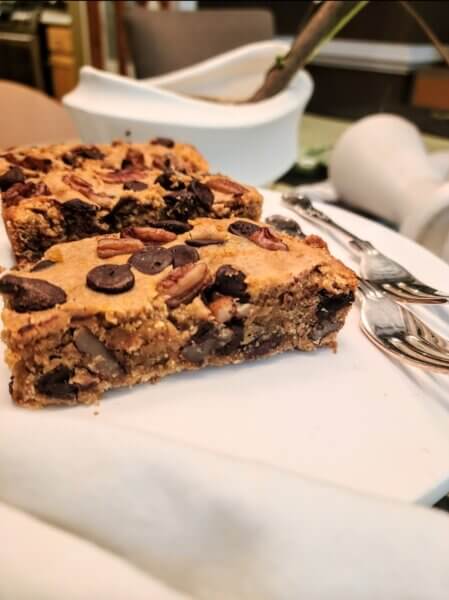 Yield: 8 to 16 bars
1-15.5 ounce can chickpeas, rinsed and drained, 1 1/2 tablespoons juice reserved
1/4 cup oat flour, almond flour, etc.
1/2 cup pecan butter (can substitute almond or peanut butter, bur pecan is best!)
3/4 cup maple syrup
1 teaspoon vanilla extract
1/4 teaspoon baking powder
1/4 teaspoon baking soda
1/4 teaspoon sea salt
1/2 cup chocolate chips
1/2 cup broken pecans or other nuts
Preheat oven to 350 degrees. Spray an 8″ square pan with nonstick spray, line with a 7″ wide strip of parchment paper or foil, spray again, and set aside. In large food processor, process all ingredients except chips and nuts until smooth. Stir in about 1/3 cup each chips and nuts, spread evenly into pan, sprinkle remaining chips and nuts over the top, and bake for 30 minutes. Cool on a wire rack, slice, and serve or store covered.
#vegan #veganrecipes #veganfoodshare #veganfoodporn #plantbased #plantbasedrecipes #plantbasedfoodshare #plantbasedfoodporn #vegansofinstagram #vegansoffacebook #vegansofvirginia #plantbasedblondies #veganblondies