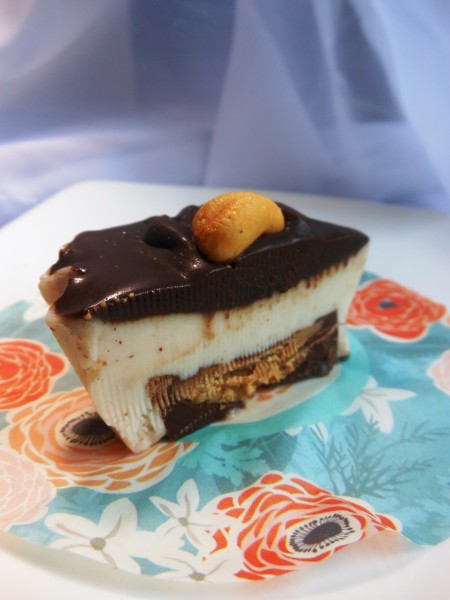 Yield: 4 treats
If you think peanut butter cups are good, try peanut butter cups topped with layers of creamy vanilla ice cream and decadent chocolate ganache for a frozen peanut-topped treat.
If she'd had to chose, Cleopatra certainly would have chosen these over Mark Antony!
The Good Folks at Go Max Go Foods sent me a bounty of bars recently, so stay tuned for more creations and visit them on Facebook!
2 packages Go Max Go Cleo's peanut butter cups (each package contains two cups) or the vegan peanut butter cup most readily available in your area.
1 pint vegan vanilla ice cream, softened and stirred until creamy
1/4 cup vegan soy or coconut creamer
1/2 cup vegan chocolate chips
Garnish: 4 large peanuts or 2 teaspoons chopped peanuts
Line 4 muffin tins with 4 muffin liners and place one Cleo's peanut butter cup in the bottom of each.  Top each with 1/4th of the ice cream, smoothing the tops.  Freeze.  Meanwhile, heat soy creamer to just before simmering on top of stove or in microwave.  Whisk in chocolate chips until smooth.  Cool to room temperature and top each ice cream treat with one-forth of the ganache, smoothing the tops. Garnish with one large peanu tor 1/2 teaspoon finely chopped peanuts.  Refreeze for at least 2 hours.  To serve, remove each treat from the muffin tin, which may require a knife to pop it loose.  Peel off muffin liners and discard, serving on top of fresh liners, if desired.  Allow to soften slightly before serving with a small sharp knife for the initial slice through the bottom.