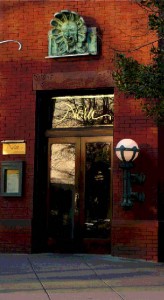 If you live in or near Washington, D.C.–or are lucky enough to visit our nation's capital and one of my favorite cities (it never seems the same twice!)–put Restaurant Nora on your dining to-do list.
For the last two years, we've traveled to D.C. with different couples to ring in the New Year.  This year we went with our good pals, Jonell and Scott Walthall, staying at the W Hotel again this year.  It is hip and stylish and ideally located between the Washington Mall (NOT a shopping mall!) and the White House.
In trying to choose the perfect spot for a New Year's Eve dinner, I recommended Nora's in Dupont Circle, the first restaurant to be certified organic in the U.S.  But  my connection to the restaurant goes even deeper.  I first learned of it years ago when my good friend, Anne Wolcott, shared Nora's recipe for Chocolate Carrot Cake that had been published in a culinary magazine.
Anne had it made for her wedding cake and shared it with me, requesting it at some point later for her birthday.  At the time, chocolate and carrots sounded perfectly odd together–a forced pairing that didn't seem necessary or even desirable.   However, when I was developing recipes for The Blooming Platter Cookbook–whose focus is seasonal–and was in need of a spring dessert, I decided to veganize and adapt the original vegetarian recipe and see what I thought.  I adored it!  And I hope you will.  The recipe follows at the end of this post.
Back to Restaurant Nora…I asked Jonell if she would mind doing a little investigating to see if it would be appealing to the three omnivores in our party, as I didn't want to speak for them.  She discovered it to be an optimum choice, offering a 5 course omnivorous prefix meal AND a 5 course vegan prefix meal.  The only difference between the two–besides the obvious–was that the omnis had several choices for all but the first course and I only had one.  But one was all I needed.  Each course was perfection!
The meal was light, but plenty filling, full of flavor, stunningly presented, and timed impeccably for an ideal rhythm and flow throughout the evening, lasting about two hours and 45 minutes from start to finish.  Plus, the restaurant itself is so warm and inviting.  The modern-with-traditional-roots appearance of the Amish and Mennonite quilts that hang on the exposed brick dining room walls embody one of my favorite aspects of Nora's: a fresh take on classics.
Following are photos of each course (I apologize for the poor light quality), ending with my Chocolate Carrot Cake recipe.  But first, here is our party in the lobby of the W ready to hail a cab to Nora's.   My stunning orange dress came from Zara's that day (on sale!), purchased because Jonell and I had both packed long-sleeved black dresses, black tights, and black ankle boots.  No way was I going out dressed as the Bobbsie Twins!  My necklace and earrings are from Terri Lindelow's "Cluster" series.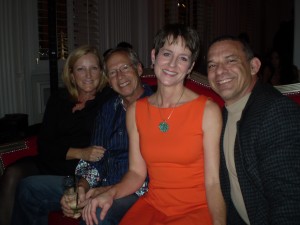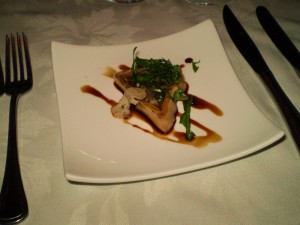 1) The first course for all of us was this diminutive but flavorful triangular slice of winter squash and wild mushroom terrine.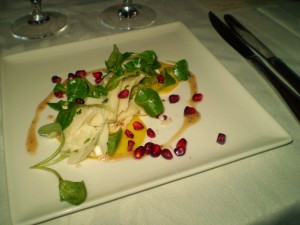 2) My second course was a shaved hearts of palm and mango salad with pomegranate seeds and a citrusy dressing.  (Hearts of palm always remind me of my father; he adores them and we usually put a tin of them in his stocking , but the socks he requested took up most of the space this year.)  I have never been served hearts of palm shaved and it was a really nice way to enjoy them.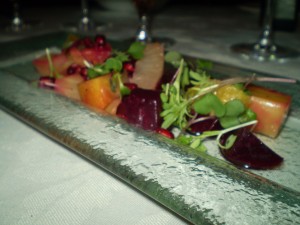 3) Up next was this shimmering landscape of roasted beets with fresh fruit:  juicy and simultaneously earthy and bright. It was almost to beautiful to eat.  Almost.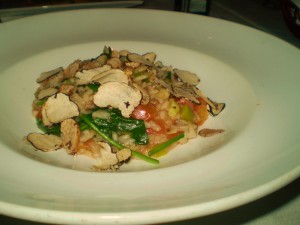 4) The most filling of the dishes was, of course, my entree.  Still, it wasn't too much: a creamy and flavorful vegetable risotto with decadent truffle shavings over the top.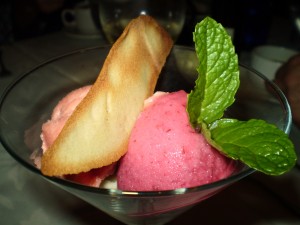 5) For dessert, hot tea plus a trio of fresh fruit sorbets and a cookie called a "Cat's Tongue.
I love sorbet and it was the ideal ending to this multi-course meal: refreshing and light.  But sometimes we vegans want something even more decadent for dessert.  If you feel the same, I hope you will enjoy this sneak preview from The Blooming Platter Cookbook: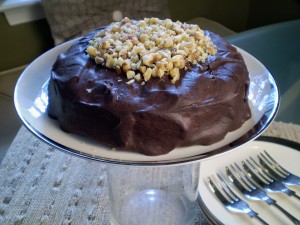 Vegan Chocolate Carrot Cake
Yield: 8 servings
When my friend Anne Wolcott raved about the chocolate carrot cake she served at her wedding, "mouth watering" was not the first thought that came to mind. I adore both chocolate and fresh spring carrots, but I didn't think they could be happily married. However, Nora Pouillon of the eponymous Restaurant Nora in Washington, D.C., knew exactly what she was doing as culinary match-maker. Her cake inspired my vegan version.
Cake:
1 cup soy milk
1 tablespoon apple cider vinegar
1 cup unbleached all-purpose flour
3/4 cup plus 2 tablespoons natural sugar
1/2 cup unsweetened cocoa powder
1 teaspoon ground cinnamon
1/2 teaspoon baking powder
1 teaspoon baking soda
1/4 teaspoon sea salt
1/3 cup walnut oil or canola oil
1/2 teaspoon vanilla extract
1 1/2 cups grated carrots
Ganache:
9 ounces vegan semi-sweet chocolate
chips
1/2 cup vegan sour cream
Garnish:
Halved or chopped pecans or walnuts
1. Cake: Preheat the oven to 350ºF. Grease and flour a 9-inch round cake pan.
2. In a small bowl, whisk together the soy milk and vinegar. Set aside to curdle, whisking a couple of times. In a large bowl, whisk together the flour, sugar, cocoa powder, cinnamon, baking powder, baking soda, and salt. Make a well in the center of the dry ingredients and add the soy milk mixture, walnut oil, and vanilla. Stir until all ingredients are well combined and no lumps remain. Stir in the carrots.
3. Transfer the batter to the prepared pan and bake for 25 to 30 minutes or until a wooden pick inserted in the center comes out clean. Let the cake cool in the pan on a wire rack for 10 minutes. Run a knife around the side and then invert onto the rack to cool completely, covered with a kitchen towel. Transfer to a serving platter.
4. Ganache: In a double-boiler, heat the chocolate chips until melted, stirring frequently until smooth. Alternatively, you may heat them in a microwave-safe bowl at 20 to 30 second intervals in the microwave, whisking after each. Remove the pan from the heat and quickly whisk in the sour cream.
5. To assemble: Frost the top of the cake with the ganache, allowing some to cascade over the edges. Garnish with pecans or walnuts.
For 150 additional recipes, treat yourself to The Blooming Platter Cookbook:  A Harvest of Seasonal Vegan Recipes.