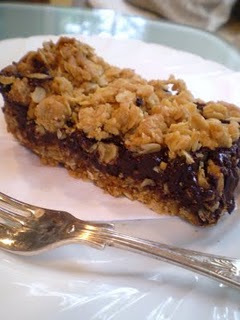 Yield: 8-12 bars
This recipe has been a favorite since my graduate school roommate, Melinda (Harvey) Shallcross, shared it with me in the early 80s. (I went to graduate school right out of high school–not!) When I became vegan a few years ago, after being vegetarian for a long, long, time, I thought I'd eaten my last Oatmeal Fudge Bar, not so much because the dough had an egg in it–that's easy to veganize–but because the filling contained condensed milk. However, you may recall that, not too long ago, I experimented with "old-school" 7-Layer Bars by substituting Cream of Coconut for the condensed milk and they were perfect.
In the mood to bake today and with a can of Cream of Coconut in the pantry, I started reviewing my mental recipe files for other favorites formerly made with condensed milk. When I got to these creamy-chewy wonders, I knew they were what I would whip up. Again, the Cream of Coconut was the answer; the bars were as good as I remembered. I promise you, they will be a big hit with whomever you choose to serve them to, including kids. They're school lunchbox sensations.
Oatmeal Layer
1/2 cup vegan butter (I like Earth Balance)
1 cup light brown sugar
1/2 teaspoon vanilla
3/4 cup all-purpose flour (you may use part whole wheat flour)
1/2 teaspoon baking soda
1/4 teaspoon baking powder
1/2 teaspoon salt (not necessary if your vegan butter is salted)
2 cups oats
Fudge Layer
6 ounces vegan semi-sweet or dark chocolate chips (normally, I prefer dark chocolate, but semi-sweet seems to provide a better balance in this recipe)
1 tablespoon vegan butter (I like Earth Balance)
1/3 cup Cream of Coconut (not coconut milk)
1/4 teaspoon salt (not necessary if your vegan butter is salted)
Oil a 9 x 9-inch metal baking pan. Preheat oven to 350 degrees. Make oatmeal layer: Cream together butter and sugar with an electric mixer on medium-high. Beat in vanilla. Add flour, baking powder, baking soda and salt, if using. Beat on low speed, just until combined. Stir in oats until well distributed. Remove one cup and set aside. Pat remainder into an even layer in prepared pan.
Make fudge layer: place all ingredients in small microwave safe bowl. Heat for about 20 seconds or until chocolate is melted and whisk until smooth. (You may heat the mixture in a small saucepan on the stove over medium heat if you prefer.) Pour over oatmeal layer and spread evenly. Sprinkle top with reserved oatmeal mixture. Bake 25 minutes or until surface is golden brown. Cool completely and cut into bars. Store leftovers tightly covered. You may refrigerate if you like.
Source: I veganized this recipe from Beth Young via Melinda Harvey Shallcross.