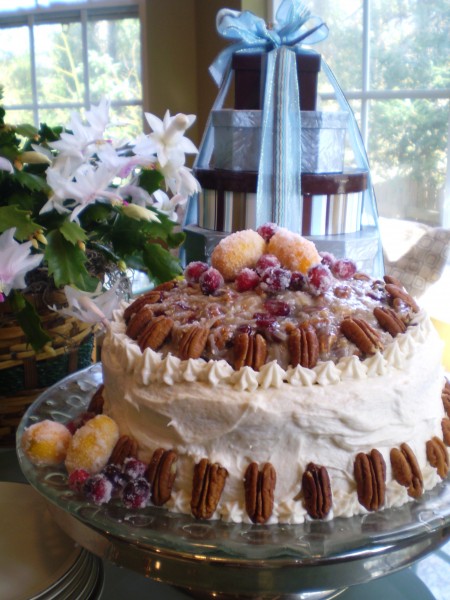 For the next 12 days leading up to Christmas, it is my pleasure to share some of my most treasured vegan recipes, some old favorites and some brand new, perfect for this grand holiday.
I'm starting with dessert, as this recipe (from 2009) might take a little bit more preparation and planning than the others.  However, when you present this beauty to your loved ones, the smiles on their faces and their oohs and ahs will make any extra little bit of effort entirely worth it.
Named after Southern Living Magazine's annual cover cake for their December issue, "The Big White Cake" is a bit of a misnomer, for though the frosting is a luscious pillowy white, the cake is German chocolate.  And between the rich layers is a festive–and lightly spiked–adaptation of traditional  German chocolate cake filling with it's nuts and coconut.  Dried cranberries and citrus make it a true celebration of winter and gift of the season.
Sugared fruit guilds this delicious, impressive lily.  And for all of its wow-power, "The Big White Cake" is really not difficult at all.