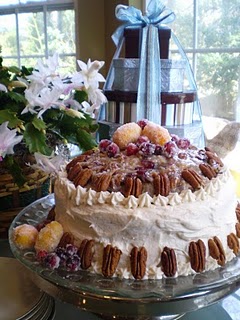 Annually in December, Southern Living magazine publishes what their staff has come to call "The Big White Cake" issue. And with good reason. For years, come December, a glorious confection swathed in snowy white has graced the cover of their winter holiday issue. From tiered spectacles to more humble one-pan wonders, flavors have ranged from red velvet to chocolate to peppermint and many more.
For this month's "Veggie Table," my column in the Virginian-Pilot, we decided to borrow a page from their playbook and create our own version of The Big White Cake, only one that is completely egg- and dairy-free. Generating ideas was not the difficult part—white goes with everything—but narrowing down the choices was.
The approach of my friend Sharon Tanner's birthday made the decision a little easier. Tasked with bringing the cake to her party, I asked what flavor her heart most desired. "German Chocolate," was her unequivocal response. Ah, that was easy. It's my dad's favorite too.
So the cake layers are deep dark, but sweet, chocolate. The recipe I chose may be made with all-purpose or cake flour and melted vegan butter or canola oil. The cake flour and oil results in a somewhat lighter cake, and the all-purpose flour and butter results in one a bit denser. Both taste delicious; just choose the texture you prefer.
Though German Chocolate Cakes are typically coconut-and-pecan filled, but not frosted, I thought the addition of my favorite vegan cream cheese frosting would be both lovely and delicious. And it is. This show-stopping dessert is so pretty that it can do double-duty as a centerpiece.
For a more holiday-ish adaptation of the traditional filling, I took my cue from Lane Cake, adding dried cranberries to the filling along with a little citrus to brighten the fruit flavor. A hint of almond extract, in addition to the traditional vanilla, enhances the flavor of the nuts and coconut. And cognac—a nip of my husband's "good stuff" brushed on the layers and stirred into the filling—creates subtle nuances and depth of flavor.
Decorating this cake may be akin to gilding the lily, but this season of the year seems to call for going a bit over the top in the name of festivity. I created borders from piped on frosting "stars" and pecan halves. If you don't trust yourself wielding a pastry bag, pecan halves alone are plenty pretty and lend a homespun appeal, as would finely chopped pecans or flaked coconut pressed into the sides of the cake.
Though you could stop right there and still have an extra special dessert, I decided to add a crowning touch: a little finial and a focal point on the rim of the platter made from sugar-coated fresh cranberries and kumquats. The sugaring process is so simple that you could easily prepare enough fruit to make an entire border in mere minutes (after the overnight steeping).
Easy to make, but impressive to the eyes and palate, this cake embodies the spirit of this beautiful season when it is shared with friends and family.
Happy Holidays!
Chocolate Cake:
3 cups all-purpose or cake flour (the former yields a slightly denser cake; the latter slightly lighter)
2 cups sugar
2 teaspoons baking soda
1 teaspoon salt
1/2 cup cocoa powder
3/4 cup canola oil or melted vegan butter (the former yields a slightly lighter cake; the latter slightly denser)
1 teaspoon vanilla
2 tablespoons white vinegar
2 cups water
2 tablespoons cognac (or bourbon)
1 recipe Vegan Coconut, Pecan and Dried Cranberry Filling (recipe follows)
1 recipe Vegan Cream Cheese Buttercream Frosting (recipe follows)
Garnishes: pecan halves, finely chopped pecans, and/or flaked coconut
Optional: sugared cranberries and kumquats (instructions follow)
Preheat oven to 350 degrees. Grease and flour two 8 or 9-inch cake pans. In the large bowl of an electric mixer, combine the dry ingredients, add the wet ones except cognac, and mix until well combined. Then beat for about 1 minute at medium speed or until smooth. Avoid over-beating. Bake for approximately 30 minutes (slightly longer for the 8-inch rounds) or until a toothpick inserted at the highest point comes out clean. Cool for 10 minutes on wire racks. Run a knife around the edges of the pans to loosen and turn out onto racks to cool. Cover layers loosely with a kitchen towel while cooling. Note: For other applications, you may bake this cake in 24 cupcake tins for 20-25 minutes or one 9 x11-inch pan for about 50 minutes.
When cake layers are cool, place the bottom tier on a serving plate and brush with one tablespoon of the cognac or bourbon. Spread with half the filling. Top with the second layer, brush it with remaining liquor, and spread with remaining filling. Frost just the sides of the cake with Vegan Cream Cheese Buttercream Frosting. Decorate as desired with optional piped on frosting stars, pecan halves and sugared fruit. In addition or alternatively, you may press finely chopped pecans or flaked coconut into the sides of the cake. Note: There will be enough frosting to pipe on a moderate amount of decoration. Refrigerate any leftovers in an airtight container for another use.
IMPORTANT NOTE: If cake layers "dome" while baking, allow them to cool and then use a serrated knife to slice off the crown of the dome. If the center of the layers is still noticeably higher than the sides, use a pastry bag or a resealable plastic bag with the corner snipped off to pipe a ring of frosting around the edge of the bottom cake layer to effectively raise the outer edge of the cake and create a "dam" for the filling. This will allow you to create a flat surface for the second layer to rest on. Do the same for the top layer to prevent the filling from spilling over the edges.
Cake recipe source: Susan Voisin and the Fatfree Vegan Kitchen
Vegan Coconut, Pecan and Dried Cranberry Filling:
1 cup unsweetened soy milk (plain, vanilla or vanilla lite would also be good)
1/3 cup coconut milk
1 ¼ cups granulated sugar
1 teaspoon vanilla extract
¼-1/2 teaspoon almond extract
2 tablespoons cognac or bourbon
Juice of one lemon
½-1 teaspoon of lemon zest
1/3 cup cornstarch
¼ cup water
2 cups sweetened flaked coconut
1 ½ cups pecan pieces or chopped pecans
½ cup (generous) dried cranberries
In a medium saucepan, mix the soy milk, coconut milk, sugar, extracts, cognac or bourbon, and lemon juice and zest. Whisk the cornstarch together with the water and add to soy milk mixture. Cook, stirring constantly, over medium-high heat until mixture boils and thickens. Cook and stir for one minute after it boils. Remove from heat and stir in coconut, pecans and dried cranberries. Cool to almost room temperature before spreading on layers.
Adapted from Susan Voisin and the Fatfree Vegan Kitchen. I added the dried cranberries to make the cake look more festive for the holidays, and then added the almond extract, cognac, lemon juice and zest to enhance the flavors of the other ingredients.
Vegan Cream Cheese Buttercream Frosting:
½ cup vegan butter
½ cup vegetable shortening
½ cup vegan cream cheese
1 teaspoon vanilla
¼-1/2 teaspoon almond extract
5 ½ cups powdered sugar
3 tablespoons plain soy creamer (unsweetened, plain, vanilla or vanilla lite soy milk would also work)
Cream together first three ingredients on high speed of electric mixer until creamy. Beat in extracts. Turn mixer off and add a little less than 2 cups of the powdered sugar and a tablespoon of soy creamer. Slowly turn mixer to high and beat until incorporated and fluffy. Repeat two more times until all of powdered sugar and creamer have been incorporated. Frosting should be creamy-stiff and peaks should hold their shape. If piping on decoration, you will want the frosting on the stiffer side.
Sugared Fresh Cranberries and Kumquats:
2 cups granulated sugar
2 cups water
2 cups fresh cranberries and kumquats (skin on), combined
3/4 cup granulated or superfine sugar (granulated sugar will work fine, but will lend a coarser appearance; you may pulverize granulated sugar in a food processor, if desired)
Make simple syrup: combine granulated sugar and water in a small saucepan over low heat, stirring mixture until sugar dissolves. Bring to a simmer; remove from heat. (Do not boil or the cranberries may pop when added.) Stir in fruit; pour mixture into a bowl. Cover and refrigerate 8 hours or overnight.
Drain fruit in a colander over a bowl, reserving steeping liquid, if desired. Place sugar in a shallow dish. Add the fruit, rolling to coat with sugar. Spread sugared fruits in a single layer on a waxed paper or parchment paper-lined baking sheet; let stand at room temperature 1 hour or until dry. Store in an airtight container in a cool place for up to a week.
Source: Cooking Light, December 2003