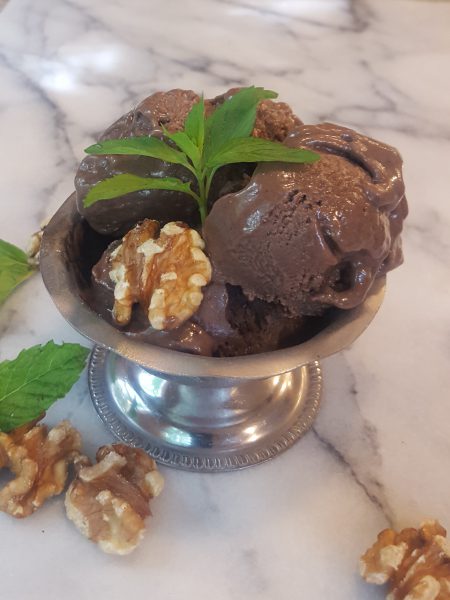 Yield: 4 servings
Calories: app. 130/serving (however, you can eat the whole recipe for  only 520 calories which is equal to or less than a small meal!)
This recipe was inspired by one making the rounds via video on Facebook.  A while back, lying in bed very early one morning, I watched how it was made with the sound off–Bob was asleep–and then just went for it last night, propelled by this oppressive heat and humidity.  Around here, we call the heat index the "misery index."
The original recipe called for 4 bananas and what appeared to be 2 tablespoons of peanut butter and 2 of cocoa powder.  I'm not a big peanut butter and chocolate fan.  My aversion dates from a childhood incident that resulted from eating way too many peanut butter-and-chocolate eggs out of my Easter basket on the heels of blueberry shortcake.  I nonetheless added one tablespoon thinking it might be necessary for texture.  It wasn't.  For the chocolate, I used  Hershey's Special Dark Cocoa Powder, but if you prefer a more reddish-brown color, then just use regular cocoa powder.
But whatever you do, peel your bananas before freezing them.  I don't know what I was thinking, but when I pulled four banana-shaped ice cubes out of my freezer, I realized my mistake.  So, I thawed them, peeled them, cut them into chunks and refroze them.  The texture was still silky and glorious.
My two additions to the recipe are quick, easy, and absolutely necessary in my opinion.  After I tasted the ice cream, I felt it seemed a little flat or one-note.  I tend to like more complex flavors,though not fussy ones.  So, I added a hint of both almond and vanilla extracts and that did the trick.  However, I look forward to experimenting with other extracts like mint, orange, and perhaps rum or brandy.
If your summer promises to be as hot and humid as ours in Eastern, VA, this recipe is likely to become a staple.  A friend said that his daughter used to make a version and eat it for breakfast.  It is certainly more nutritious than most of what I see folks eating for breakfast.
Whenever you decided to enjoy a couple of scoops, I hope you will enjoy it as we do.
4 large bananas, peeled, cut into 2-inch chunks and frozen
2 tablespoons regular or Special Dark cocoa powder
1/4 teaspoon almond extract
1/2 teaspoon vanilla extract
Optional garnishes: walnut halves and mint sprigs
Blend all ingredients in a food processor until smooth and creamy.  Enjoy right away or freeze in an airtight container.  Thaw for two 30-second intervals in the microwave before trying to scoop.  Top, if desired with walnut halves and mint sprigs.