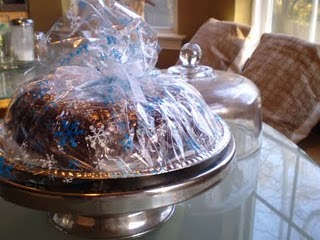 Yield: 12 servings
My annual Christmas Curry & Cakes all-girls party–an almost 10-year tradition dubbed by one of the husbands as "CC&C"–was this past Wednesday evening. Though everyone is encouraged not to bring gifts, they always do. My lovely friend Susan Kaplan presented me with the "sugarplum" in the photograph. I thought she had purchased it, not because she's not a talented cook with great decorating taste, but because it was packaged so professionally. However, inside the card was the recipe which, of course, I couldn't wait to share with you. Enjoy!
1 3/4 cups freshly brewed coffee
2/3 cup unsweetened Dutch-processed cocoa powder
1 1/2 cups granulates sugar
1/3 cup canola oil
1/3 cup applesauce
1/4 cup cornstarch
2 teaspoons vanilla extract
1 teaspoon almond extract
2 cups whole wheat pastry flour or all-purpose flour
1 teaspoon baking soda
1 1/2 teaspoons baking powder
1/2 teaspoon salt
2 teaspoons confectioners' sugar
Preheat over to 325 degrees. Lightly grease an 8- or 10-inch bundt pan. Heat the coffee in a saucepan over medium heat until it comes to a simmer. Turn heat down and whisk in the cocoa powder until it has dissolved. Remove the saucepan from the heat and set aside to bring to room temperature. In a large mixing bowl, whisk together the granulated sugar, oil, applesauce, and cornstarch until the sugar and cornstarch dissolve, about 2 minutes. Mix in the extracts. Once the chocolate mixture has cooled a bit, stir that in as well. Sift in the flour, baking soda, baking powder, and salt. Beat until the batter is relatively smooth. Pour the batter into the prepared pan and bake for 45 to 55 minutes, or until a toothpick or butter knife inserted into the cake's center comes out clean. Remove the pan from the oven and let the cake cool for about 20 minutes. Then invert the pan onto a serving plate to remove the cake, and cool completely. Once the cake is cool, sift the confectioners' sugar over the top and serve.
Source: Isa Chandra Moskowitz and Terry Hope Romero as published in Yoga Magazine via Susan Kaplan