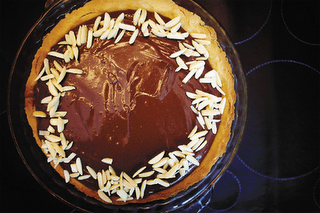 In September 2008, I conducted an in-home vegan baking class under the auspices of The Virginian-Pilot. For the story, written by Denise Watson Batts and recipes listed below, access:
http://dev.hamptonroads.com/2008/09/vegan-baking-tips
Spiked Vegan Chocolate Mousse (which can be used as a pie filling in the crust listed below as pictured here)
Vegan Shortbread Crust
Oatmeal Dried Cranberry Cookies
Gingerbread Cupcakes with Orange-Cream Cheese Frosting
Banana and Chocolate Chip-Hazelnut Cookie Dough Brownies
Be forewarned: this chocolate mousse is dangerous whether served as a mousse or a pie. But its primary ingredients are tofu and chocolate soy milk so it is practically health food.
Thanks to my buddy Angela for noting that those avoiding white sugar can substitute raw sugar in a 1:1 ratio for baked goods.
Note: As a sideline, both my "student" and now good friend, Susan Kaplan, and I were appalled at the photograph of us that ran with the story. We both look old and haggard and I look a little angry to boot. For what it's worth, I think my blog photo is a much more accurate representation and Susan is gorgeous. I even asked my editor who I had p—– off!
Photo Credit: Chris Tyree