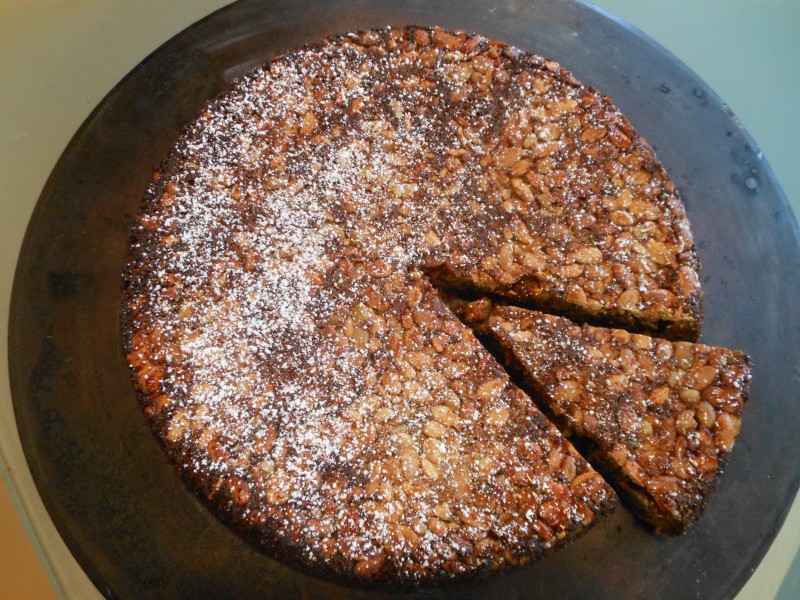 A recipe from Rick Bayless–the iconic American chef steeped in traditional Mexican cuisine which he serves up, with a modern twist, at his Frontera Grill restaurants in Chicago and cooks up on his PBS series–inspired my vegan version (which I submitted to the Virtual Vegan Linky Potluck!).
I spotted the recipe in "Chefs' Weeknight Dinners" in the July 2014 issue of Food and Wine while on an airplane and knew it would be one of the first new recipes I created once I got back home.
I followed his recipe and method except for the eggs and the chocolate.  For the 3 eggs, I substituted 1/2 cup mashed banana, 1/4 cup unsweetened soymilk, and an additional 3/4 teaspoon baking powder.  I chose banana as I'm not a powdered egg replacement fan and the banana seemed both Mexican and compatible with chocoalte.  (I think pureed pumpkin would also be a nice substitute.)  And for the Mexcian chocolate, finely chopped, I simply subbed vegan mini chocolate chips.  I also added a teaspoon of vanilla and a smidge more confectioners' sugar for dusting.
The recipe is a cinch to make and very earthy due to the large amount of pumpkin seeds.  It calls for just over a cup of sugar, but the pumpkin seeds are roasted and salted, so this unfrosted cak is not too sweet.
The result is deliciously different without being odd.  The cake has a consistency somewhat similar to a blondie with chocoalte chips.  But its flavor–with the banana virtually undetectable–is all its own, so I think you'll love adding it to your repertoire.
1 3/4 cup roasted and salted pumpkin seeds
1 cup plus 2 tablespoons turbinado sugar (any granulated sugar will work)
1/2 cup mashed banana
1/4 cup unsweetened soymilk
Optional: 1 tablespoon tequila
1 teaspoon vanilla
1/3 cup softened butter, cut into 1-inch pieces
1/3 cup white whole wheat flour (unbleached all-purpose flour would also be fine)
1 teaspoon baking powder
3 ounces vegan mini-chocolate chip (or chocolate/chocolate chips finely chopped)
2 tablespoons confecitoners' sugar
Preheat oven to 350 degrees.  Spray a 9-inch baking pan with non-stick spray.  Trace around the bottom of the pan on a piece of parchment paper and cut out just inside the line.  Place paper in greased pan and spray again.  Sprinkle bottom with 1/2 cup pumpkin seeds and 2 tablespooons of turbinado sugar.  In a food processor, pulse the remaining 1 1/4 cup pumpkin seeds with the remaining 1 cup of turbinado sugar until the mixture resembles wet sand.  Add the banana, soymilk, optional tequila, vanilla, and butter, and process until smooth.  Add the flour and baking powder and pulse just until incoproated.  Add the chocolate and pulse until well distributed.  Transfer the batter into the prepared pan, gently smoothing to make an even layer over the pumpkin seeds.  Bake for about 40 to 45 minutes or until a pick inserted in the center comes out clean and edges are golden brown.  Rotate the pan halfway though baking.  Cool the cake in the pan on a rack for 10 minutes, then invert it onto a plate and carefully peel off the parchment paper.  Dust the cake with the confectioners' sugar and serve warm or at room temperature.