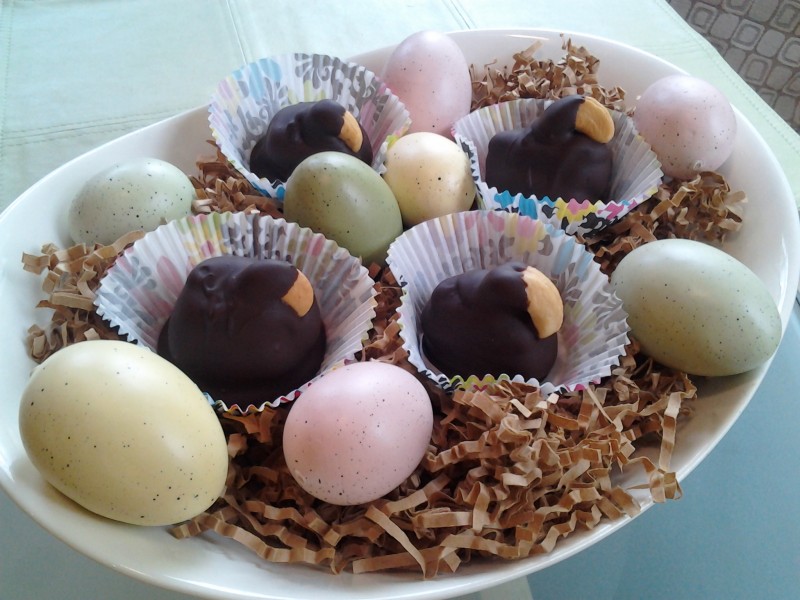 Yield: 8 Peeps
These "Peeps" that I created–which I think look more like Toucans!–were inspired by "Ugly Ducklings" sold at a local Mediterranean restaurant called Azar's.
I wanted to take the store-bought ones to an Easter dinner on Sunday, but the restaurant was closed and I could find no recipe, so I decided to "wing it," so to speak.  Fortunately, the ingredients are few.
I'm so glad I did, as they are super simple and so unique!  I apologize for not having them ready to share with you in advance of Easter, but they are nice for spring in general, and certainly next year!
Resting in decorative cupcake liners and tucked, along with softly colored wooden eggs,  into their straw nest, they looked peepin' adorable and were also a rave in the taste department!
They seem especially appropriate for spring, but the ingredients are pretty season-less, so enjoy all year when a festive presentation and a little decadent bite is in order.
Approximately 1/2 cup (or slightly less) almond paste (I purchase it in a can on the baking aisle of the grocery store)
16 pitted dates, opened out (be sure to use fairly moist ones)
1-9 or 10 ounce package vegan chocolate chips
8 whole roasted and lightly salted cashews
Line a baking sheet with parchment paper or Silpat.  Using your fingers, mold a scant tablespoon of almond paste into an egg shape.  Moisten your fingers if your paste seems dry.  Then press into one of the dates, pressing another date over the top to encase the almond paste inside, forming an egg or bird body shape.  Continue with all remaining dates and almond paste.  Cover and refrigerate them for about a half hour.  Melt chocolate in microwave in a narrow deep bowl for ease of dipping.  (For 9 to 10 ounces, I have found that 1 minute on full power, a slight stir, and then 20 to 30 seconds at full power, followed by a good whisking works in my microwave.)  Pierce each date-almond paste ball with a toothpick.  One at a time, dip them into the chocolate, covering completely, and place on prepared baking sheet.  Remove toothpicks and "patch" hole with a dab of melted chocolate if need be.  Then, one at a time, dip half of each cashew into the chocolate and attach it to the top of each "body," slightly toward one end, with the cashew "beak" curving into the body and touching at each tip–chocolate toward the center–so that it is secure.  Refrigerate for a half hour or until chocolate is hardened.  Arrange as desired and serve.
Note: you will have some chocolate left over, but when it gets low, it is difficult to coat the date-almond paste balls.