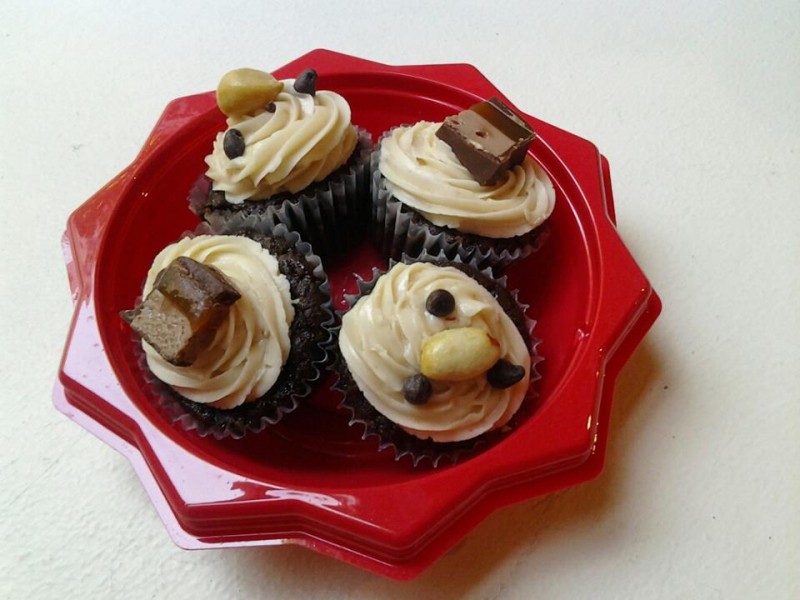 Yield: 2 1/5 dozen brownie bites
Voila!  My third recipe in the trio of treats I have created so far using Go Max Go vegan candy bars (no dairy, eggs, hydrogenated oils, trans fats, artificial ingredients, or cholesterol).
Sometimes I feel that my creations are gilding the lily since the candy bars are so good on their own–7 different and delicious varieties–but when the occasion calls for something different than a candy bar, I encourage you to give these a "go"!
These dark-as-midnight brownie bites conceal hidden nuggets of Go Max Go "Twilight" bars–think vegan versions of Milk Way bars–beneath sweet fluffy swirls of peanut butter and cream cheese goodness.
1/4 cup vegan butter
1/4 cup vegetable oil
1 cup granulated sugar (I use demerara)
3/4 teaspoon vanilla extract
1/4 teaspoon almond extract
1/4 cup + 2 tablespoons pumpkin puree
1/2 cup cocoa powder
1/4 cup + 2 tablespoons all-purpose flour (I use white whole wheat)
2 1/4 teaspoons cornstarch
3/4 teaspoon baking powder
1/4 teaspoon baking soda
1/8 teaspoon cream of tartar
1/8 teaspoon sea salt
3 Go Max Go "Twilight" bars
Vegan Peanut Butter Cream Cheese Frosting (recipe follows)
Garnish: Additional "Twilight" bars, whole peanuts, and mini vegan chocolate chips
Preheat oven to 350 degrees.  Line miniature muffin tins with 30 miniature cupcake liners.  Place butter, oil, and sugar in a microwave safe bowl and microwave on high for about 45 seconds.  Whisk together until sugar is almost dissolved, microwaving another 10 seconds if necessary.  Add all remaining ingredients except frosting and garnishes, whisk to combine, and then whisk an additional 50 strokes.  Spoon by heaping teaspoon into prepared mini muffin tins; each should be about 2/3 to 3/4 full.  Bake for 10 minutes or until set.  Cut each Twilight bar into 12 equal pieces with a sharp knife, place one piece on top of each brownie bit and gently press to partially submerge.  (Save remaining slices from third bar for garnish.)  Cool completely, frost with Vegan Peanut Butter Cream Cheese Frosting using a piping bag, if desired, and garnish with "Twilight" bar pieces, peanuts, and mini chocolate chips.
Vegan Peanut Butter Cream Cheese Frosting
2 tablespoons vegan butter
2 tablespoons vegetable shortening
2 tablespoons vegan cream cheese
2 tablespoons smooth natural peanut butter
1/4 teaspoon vanilla extract
1/8 teaspoon almond extract
Approximately 2 cups powdered sugar
Approximately 2 tablespoons coconut or soy creamer
Combine butter, shortening, cream cheese and peanut butter in the bowl of electric mixer and beat on high speed until fluffy.  Add extracts, 1 cup of powdered sugar, and 1 tablespoon creamer, and beat until creamy-fluffy.  Repeat with remaining powdered sugar and creamer, adjusting amounts, if necessary, to achieve desired consistency.