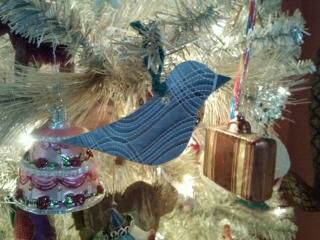 Yesterday, I made "tweet," I mean sweet little recycled bird ornaments for some friends who would be at a Xmas luncheon, and wanted to share my so-simple-it-is-embarrassing approach with you.  You still have time before Christmas and they would make great gift tags too.
Nowadays,  cardboard Kleenex boxes have the most beautiful patterns, so I purchase ones I love (even though they don't show in the aluminum tissue box covers I put them in), and then save them once the last Kleenex is used.
Remembering I had some lovely ones in my paper drawer, I simply cut-out a bird template, traced it onto the inside (the non-patterned side) of the tissue boxes–flipping it over so that I had a front and a back–glued them together, weighted them to dry (next time I'll try double-sided tape), trimmed any edges that didn't match up, punched a hole near the neck, and knotted a piece of twine through the hole.  Done!  Everyone loved them, and they truly are charming.
The one depicted I gave to our host and hostess, Ken and Trish Pfeifer; Trish photographed it and sent it to me.  You'll notice that it's little beak is solid gray.  That was dumb luck!  That particular Kleenex box had a band of solid color around the edge and I just happened to lay the template on the backside so that it lined up perfectly.  But even if such things don't happen, the results are still delightful.
Have a Happy DIY Holiday!
~betsy