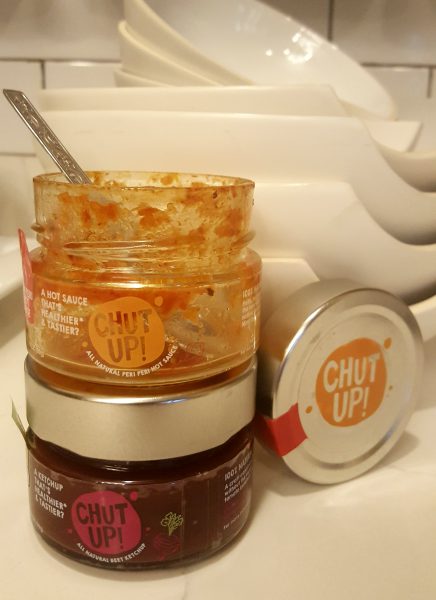 When I recently received a product offer from the good folks at Chut Up, I was interested, but a little skeptical at their claims of a "healthier and tastier" family of all natural products: Beet Ketchup, Peri Peri Hot Sauce, and Apple and Caramelized Onion Chutney.  Labeling a product as "healthier" is a pretty bold claim and needs to be backed up.  So I did a little research and asked a few questions.
In the meantime, two cute jars arrived: the ketchup and the hot sauce.  I tasted them immediately and, I confess, was underwhelmed mostly by the hot sauce…at first.  But then, a short time later (days not minutes), as I was scraping the last of the Peri Peri sauce out of the jar, I realized that, far from the unremarkable sauce that I initially thought it was, it was instead quite noteworthy.
It is not sweet, tangy, smokey, etc.  So, at first blush, it seemed to lack notable character.  But what I realized as I spooned it onto, especially, my kale nachos night after night, is that its overwhelming noteworthiness is BALANCE.  It is not "too" anything.  Including hot. Don't get me wrong: this is a "hot" not "mild" sauce.  But I don't like my food to hurt, so this is the perfect hot sauce for me.  I found it quite addicting.
The ketchup was notable from the get-go.  Richer in color than your garden variety tomato ketchup, this beet variety is deep and complex in both flavor and color, but not so much that it interferes with the tastes of other foods. Yet it definitely sounds flavor notes you won't find in Heinz and other common grocery store brands.
As for the healthy part, as far as I'm concerned, I eat hot sauce in such moderate amounts–ketchup too–that healthfulness is not a huge issue for me.  But, if you consume these condiments in generous quantities, you will appreciate knowing that none of the Chut-Up trio of products contains added refined sugar nor high fructose corn syrup and only modest amounts of salt.  Common ketchup, it turns out, is fairly high in both.  To obtain nutrition information, read the company's backstory, or purchase products, I encourage you to visit the Chut-Up website.
I look forward to trying the chutney and developing my crush on the Beet Ketchup and Peri Peri Sauce into a full blown affair.  For less than $5 a jar, let the stocking stuffing begin.  And with Black Friday approaching, you might want to get your Chut Up on beginning this week.