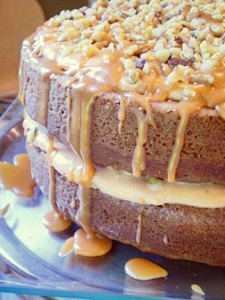 I don't know about you, but when the seasons change, I get excited about cooking all over again.
Not that I ever lost my enthusiasm, mind you!  It's just that the new produce appearing in the farm stands as summer gives way to fall rekindles my love of apples, fennel, dark leafy greens, pumpkins, spinach, sweet potatoes and more.
Now would be a great time to fuel your fall passions with the seasonally-focused recipes in The Blooming Platter Cookbook.  All of the seven recipe chapters are subdivided by season, each of which is identified by an icon on the page, the brainchild of my publisher.  Look for the beach ball for fall.  Kidding–just seeing if you were awake!  We actually chose a maple leaf for fall.
If you're hanging in the balance about whether to purchase the book or to ask you local libraries/booksellers to carry it, I invite you to read Alisa Fleming's glowing review on the Go Dairy Free website. Alisa is the founder of Go Dairy Free and a freelance writer who is devoted to recipes, news and information r special diets.
In her review, Alisa highlights two features of the book that were very conscious decisions.  One is the tendency to "say no to faux," that is, to the creation of "mock meat" dishes like vegan Beef Wellington.   As she writes, "Betsy DiJulio is one recipe creator who has done a fantastic job in moving beyond these vegan stereotypes…She doesn't pretend that tofu and seitan are meat, and her recipe titles entice by focusing on the wonderful ingredients used."
The other has to do with the design of the book.  Though the cookbook is steeped in the seasons, it is laid out with traditional chapters which are, as mentioned above, sub-divided by season.  This was a very intentional choice in hopes of making recipes easy to find.  Says Alisa, "Seasonal cookbooks seem to be a theme in recent years, particularly with the farm to table movement. However, Betsy's format is the most appealing I've seen."
Accompanying her review are four mouthwatering photographs from the book, one per season.
Stay tuned for a link back to GoDairyFree.com later this month when she posts my recipe for Farm Stand Muffins from the "Brunch" chapter of the book.
Thanks, Alisa, and Happy Labor-less Day, everyone!