Congratulations to "Joy" for winning a copy of The Blooming Platter Cookbook:  A Harvest of Seasonal Vegan Recipes!
As many of you know, it was my pleasure to offer a giveaway of my brand new cookbook in recognition of the first week of Vegan MoFo 2011.  The deadline was midnight last night, and I just had the honor of choosing a random winner using Random. org.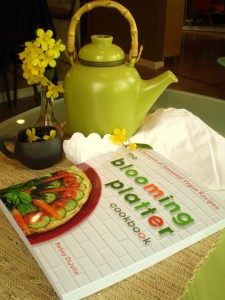 Now the fun begins: responding to all of your wonderful comments!  I couldn't "reply" prior to selecting a winner without throwing off the total number of responses needed for the "True Random Number Generator."  But now I can, and I look forward to doing that this week.
Thanks to all for takng the time to participate and for your support of The Blooming Platter.  I hope you'll come back often for a visit and share with your friends.  The more the merrier when it comes to community-building.
Happy Vegan MoFo!