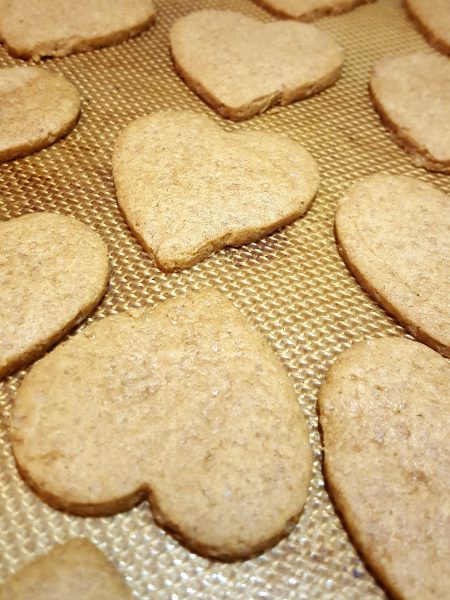 You will love this no-fail, no-egg recipe that I have had since I was an adolescent growing up in a small town in south-central Mississippi.  There, Quinn's, the local pharmacy, was virtually the only place to purchase cosmetics. Just beginning to experiment with make-up, one year, I was seduced around the holidays  by "gingerbread" flavored lip gloss which was sold complete with a gingerbread cookie recipe printed on an accompanying card.
I first made them for one of the attorneys with whom my mother worked.  He loved them and, thereafter they became known as "John's Gingerbread Cookies."  I made them frequently but I haven't made them for a long time.  However, this holiday season I saw a mason jar filled with miniature gingerbread boy and girl cookies and tied with a bow.  I was smitten, yet I never had an opportunity to make them during the winter holiday season. But, with my partner Bob struggling with several weeks of pain from bulging disks in his neck, I decided he needed a treat so I made a half batch shaped as hearts.  He ate half of them in half a day.
The only ingredient that needed to be substituted to make the cookies vegan was butter. Thank goodness for Earth Balance.  The rest is a piece of cake, er, bite of cookie.  And your home will smell divine.
Best and Easiest Vegan Roll-and-Cut Gingerbread Cookies
1 cup softened vegan butter
1 cup sugar (I like to use demerara, available at Kroger)
1/2 cup maple syrup
2 teaspoons fresh grated ginger or ground ginger (I like the pungency and brightness of the fresh, but I purchase it in a jar for ease and convenience)
1 teaspoon baking soda
1 teaspoon ground cinnamon
1/2 teaspoon ground cloves (the original recipe called for 1 teaspoon, which I found too strong)
3 cups all-purpose flour (I use white whole wheat)
Preheat oven to 350 degrees.  Line two baking sheets with parchment paper or, my favorite, Silpat (silicone baking mats).  In large bowl of electric mixer, cream together vegan butter and sugar at medium-high speed until fluffy.  Beat in maple syrup, ginger, cinnamon, and cloves until completely combined.  Don't worry if mixture looks slightly curdled.  Then, with mixer on low, beat in flour, 1/2 cup at a time, just until incorporated and dough comes together.  Add water, a teaspoon at a time, if dough seems too dry.  Avoid over-mixing or cookies will be tough. Working with one-fourth of dough at a time, roll it out on a lightly floured board to a thickness somewhere between 1/8 and 1/4″.  Cut into desired shapes, place close together on prepared baking sheet, and bake 10 to 12 minutes or until lightly golden brown.  Cool slightly and then remove to a wire rack to cool completely.  Repeat with remaining dough.