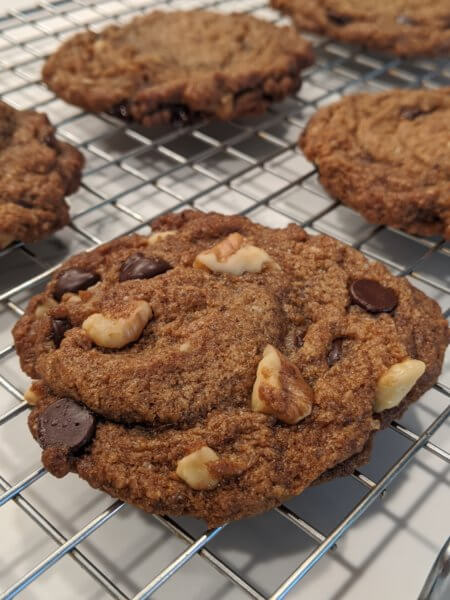 Yield: 1 dozen large cookies
Everyone thinks their chocolate chip cookie recipe is the "perfect" one, and that is because ideas about the ideal chocolate chip cookie vary so widely.
I like a couple of different kinds, including this one which is flatter and chewier. Recipes for non-vegan versions abound, but a vegan one proved to be elusive.
It took me several tries, but when my dear friend Kelly tasted this morning's experiment and asked if we could just call it "the perfect cookie," I knew I had achieved my goal, though the rapturous look on her face said it all.
Three of the secrets are melted better, no baking powder, and no egg substitute. Three more are a thorough beating of the butter with both granulated and brown sugars, a hint of molasses and water, and a higher ratio of butter to flour.
The final two are the seemingly odd techniques of 1) forming the cookie by placing one ball of dough on top of and pressed into another, and 2) lifting and dropping the sides of the baking sheet onto the cooling rack several times after baking which causes their slight puff to deflate in stages, creating concentric bakery-style ripples.
1/2 vegan butter, melted
1/2 cup granulated sugar
1/2 cup brown sugar
1 to 2 teaspoons vanilla
2 tablespoons molasses
2 tablespoons water
1/2 teaspoon baking soda
1 1/4 cups flour
1/4 cup + 2 tablespoons vegan chocolate chips
1/4 cup + 2 tablespoons walnut pieces
Preheat oven to 350 degrees. Line two baking sheets with silpat or parchment paper. With an electric mixer, beat together butter and both sugars for 2 minutes. Beat in vanilla, molasses, water, and baking soda. With mixer on low speed, mix in flour, 1/3 at a time. Avoid overbeating. Stir in chocolate chips and nuts by hand. Using a 1 tablespoon scoop, place six balls of dough, widely spaced, on each of the two baking sheets. Then place a second scoop on top of each one pressing down very firmly. You should have what roughly looks like a hat, i.e. a dome in the middle of a disk. Bake for approximately 12 minutes or until fairly flat, with a slight puff, and golden brown. Pull out oven rack and, with a hot pot holder, lift up one side of the baking sheet about 4 inches and let it drop. Do this about 3 times, alternating sides. Remove to a cooling rack and repeat a few more times. This will cause the cookies to deflate in stages and create attractive bakery-style concentric ripples on the surface. Enjoy cookies warm, or cool completely and store covered.
#vegan #veganrecipes #veganfoodshare #veganfoodporn #plantbased #plantbasedrecipes #plantbasedfoodshare #plantbasedfoodporn #veganchocolatechipcookies #plantbasedchocolatechipcookies