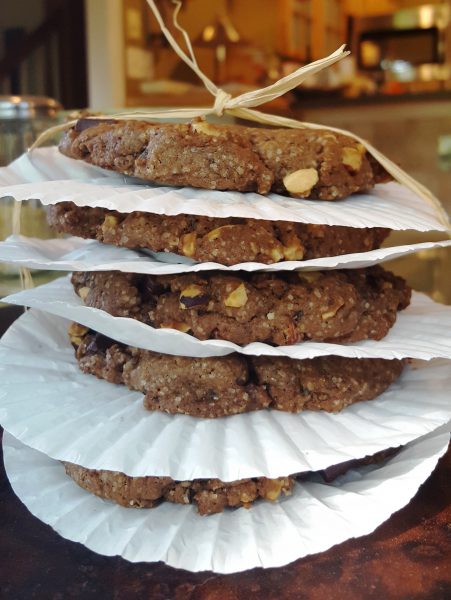 Yield: 8 very large cookies (about 4 1/2 inches in diameter)
This Thursday is my yoga instructor, Angela Phillip's, birthday. But, after yesterday's class, I won't see her until next Saturday.  So I decided to make her this stack 'o scrumptious cookies and gift her with them early.
Before yoga, though, I had a meeting with my attorney about my late husband's estate, so I took him a couple too as a "thank you" for meeting me on a Saturday (though I'm sure that half-hour was billable).  This coming week is h*** week with exams and graduation all piled up on top of each other and there were documents I needed to sign, so a Saturday meeting was necessary.
But what kind of cookie to make within the vast cookie universe?  Last Sunday, a neighbor with whom another neighbor-friend and I get together every few Sundays–and who is decidedly not a cook–gave me some culinary lavender that someone had given her.  So, I knew I wanted to use it.  And I had some hazelnuts leftover from another recipe (though any nut would be delicious), some chocolate chunks and dark cocoa powder because I just like to keep them on hand, and some espresso powder.  All of those ingredients sounded compatible and tasty together, but I felt they needed a little something to brighten the flavors.
I had a lemon, but that seemed odd until I rememberd that, in some establishments, a dimunitive cup of the dark bittersweet elixirknown as espresso is often served with a fragrant shave of lemon peel.  There seems to be no conclusive answer as to whether this practice is authentic to Italy nor as to its origin.  Some speculate that espresso cups were wiped "clean" with lemon peel during WWII or that the lemon oil, rubbed around the rim of the cup, detracts from poorly roasted or extracted espresso. Regardless, it looks pretty, and, as inspirations go, was just what these cookies needed.
Not only will you love their flavor: complex, subtle, and not-too-sweet, but the texture.  As Angela broke one of the behemoth cookies into pieces for each member of the class at the end of our practice, she practically squealed, "Oooh, these are the perfect texture!"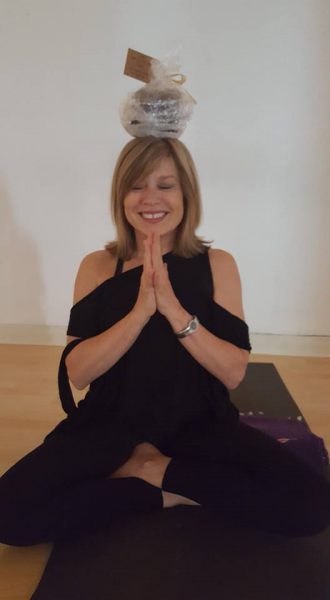 First, though, she had to pose with the wrapped stack of them on her head like a yogi crown.  To package, I simply placed each cookie on a large muffin liner, stacked them, and tied them, wrapped them with plastic wrap, and tied it with raffia before slipping them inside a gift bag.
1/2 cup vegan butter
1/2 cup vegetable shortening
1 cup granulated sugar (I use demerera)
2 to 3 tablespoons culinary lavender (sold in bulk at health food stores, Whole Foods–I think,–etc.)
1 tablespoon cocoa powder (I use Hershey's dark chocolate)
1 tablespoon espresso powder (or very finely ground coffee beans)
1 teaspoon baking soda
1 teaspoon vanilla
Zest of 1 large lemon
2 1/4 cups all purpose flour (I use white whole wheat)
Up to 1/4 cup non-dairy milk (I use soy or almond)
3/4 cup vegan chocolate chunks or chips
3/4 cup chopped hazelnuts
Preheat oven to 350 degrees.  Line a baking sheet with Silpat (silicone baking sheet) or or parchment paper.  In  bowl of an electric mixer, cream together butter, shortening, and sugar on medium-high speed until fluffy, scraping down sides of bowl as necessary.  On medium-low speed, beat in lavender,cocoa powder, espresso powder, baking soda, vanilla, and lemon zest, just until combined.  Add flour, 1/2 cup at a time on low speed, alternating with 1 tablespoon of non-dairy milk at a time if necessary, to make a soft-firm dough.  Scrape down sides of bowl as necessary and when completely combined, stir in chocolate chunks and hazelnuts on low speed.  Using a 1/4 to 1/3 cup measure–or an ice cream scoop–scoop out 8 mounds of dough onto prepared baking sheet, leaving plenty of space between cookies.  Press with fingers to about 1/2 to 3/4-inch thick, or about 4 1/2 inches in diameter.  Cookies shouldn't be touching, but they won't spread much during baking.  Bake for approximately 15 to 18 minutes or until set and just starting to brown.  Remove from oven and let cool completely on pan.  Store in an airtight container or package for gift-giving.