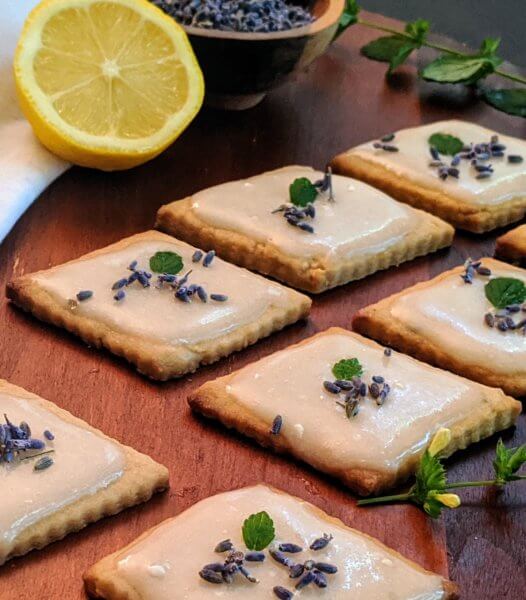 Yield: 2 dozen
I used to continually irk my late mother by "messing" with what she considered perfection: carefully selected and notated recipes that she made exactly as written.
Perhaps she will forgive me in this case because she was a big fan of anything citrusy and these are just so pretty. They remind me of her.
To arrive here, I altered my paternal grandmother's Russian Almond Cookie recipe, a perennial Christmas favorite that she mailed to us in wax paper lined tins in a cardboard box if we were with our other grandmother for the holidays.
1 cup vegan butter, softened
1 cup powdered sugar
1/4 cup granulated sugar or powdered sugar (I like the combination of sugars for texture)
1/2 teaspoon almond extract
1/2 teaspoon vanilla extract
Juice of 1 small lemon (You can zest first and include the zest as well or save to sprinkle on top)
2 1/2 cups all purpose flour
2 teaspoons culinary lavender
Lemon Cream Cheese Glaze (recipe follows)
Garnishes: culinary lavender, tiny lemon balm leaves, lemon zest, slivered or sliced almonds
Cream together better and sugar until fluffy. Beat in extracts and lemon juice. With mixer on low speed, beat in flour about 1/3 to 1/2 cup at a time, including culinary lavender with the last addition; avoid over mixing. There should be soft, but hold together well. Add more flour, one tablespoon at a time, if necessary. Preheat oven to 350° and line a baking sheet with silpat or parchment paper. On a lightly floured surface with a lightly floured rolling pin, roll cookies to a scant one quarter inch thick. Cut out with your favorite cookie cutter, rerolling and recutting scraps as necessary. Bake for approximately 10 to 12 minutes or just until lightly golden brown. Cool on baking sheet on wire rack. When completely cool ice and garnish.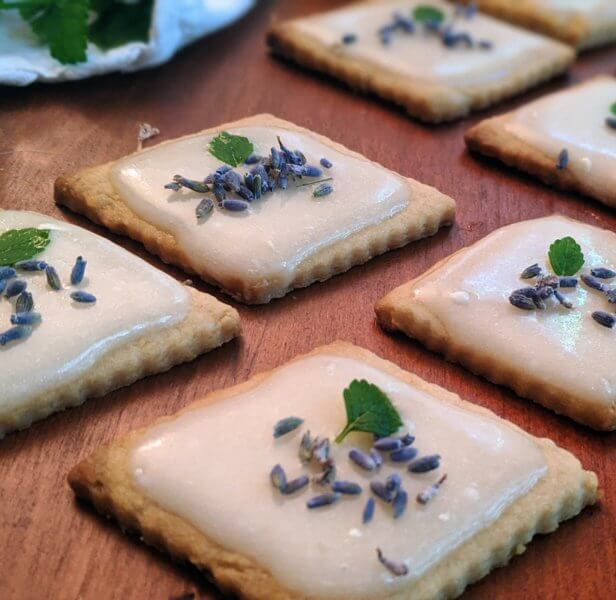 Lemon Cream Cheese Glaze
1 tablespoon vegan butter, softened
1 tablespoon vegan cream cheese, softened
Juice of 1/2 small lemon
1/2 cup powdered sugar
Tiny pinch turmeric, if desired, for yellow color
Whisk together first three ingredients until smooth. Gradually whisk in powdered sugar until virtually no lumps remain.
#vegan #veganrecipes #veganfoodshare #veganfoodporn #plantbased #plantbasedrecipes #plantbasedfoodshare #plantbasedfoodporn #veganlemonlavendershortbreadcookies #plantbasedlemonlavendershortbreadcookies