Yield: 1 dozen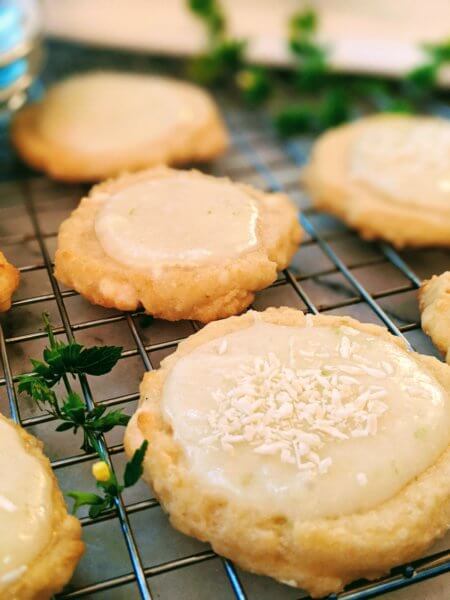 These citrusy cookies–with a hybrid frosting-glaze that lends just the right creamy zing–make me want to gather together all of my women friends and family–okay, men too–for tea.
1/2 cup vegan butter
1/2 cup powdered sugar
2 tablespoons granulated sugar
1/2 teaspoon vanilla extract
1/4 teaspoon almond extract
Zest and juice of one small to medium lime
1 cup all-purpose flour
1/4 cup grated coconut, processed until very fine (I prefer unsweetened)
1/2 teaspoon baking powder
1/4 cup mini vegan white chocolate chips
Sour Cream-Lime Frosting (recipe to follow)
Garnish: grated coconut and/or lime zest
Preheat oven to 350°. Line a baking sheet with silpat or parchment paper. In bowl of electric mixer, cream together butter, both sugars, and both extracts until creamy, scraping down sides of bowl as necessary. With mixer on low speed, beat in lime zest and juice followed by flour, processed coconut, and baking powder. Avoid over mixing. Fold in white chocolate chips by hand. Using a one tablespoon scoop or one tablespoon measure, create 12 mounds, 2 inches apart. With a narrow glass, about one and a half inches in diameter, or with the back of a spoon, dipped in flour, press into centers of cookies to create a depression with a slightly raised edge. (Depression will fill-in while baking, but it makes a pretty cookie.) Bake 8 to 9 minutes or just until beginning to turn golden brown around edges.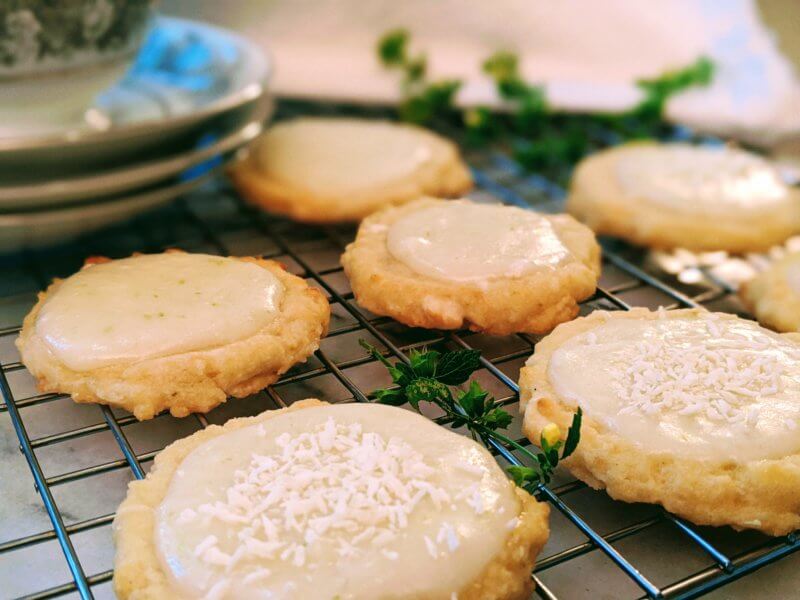 Sour Cream-Lime Frosting
1 tablespoon vegan butter, softened
2 tablespoons vegan sour cream
1 cup powdered sugar (approximately)
Juice and zest of one-half small lime
In small bowl, whisk together butter and sour cream until creamy and well-combined. Whisk in half of powdered sugar and lime juice followed by remaining powdered sugar. Frost cookies, sprinkle with grated coconut and/or lime zest, and store, covered, in refrigerator.
#vegan #veganrecipes #veganfoodshare #veganfoodporn #plantbased #plantbasedrecipes #plantbasedfoodshare #plantbasedfoodporn #vegancookies #plantbasedcookies