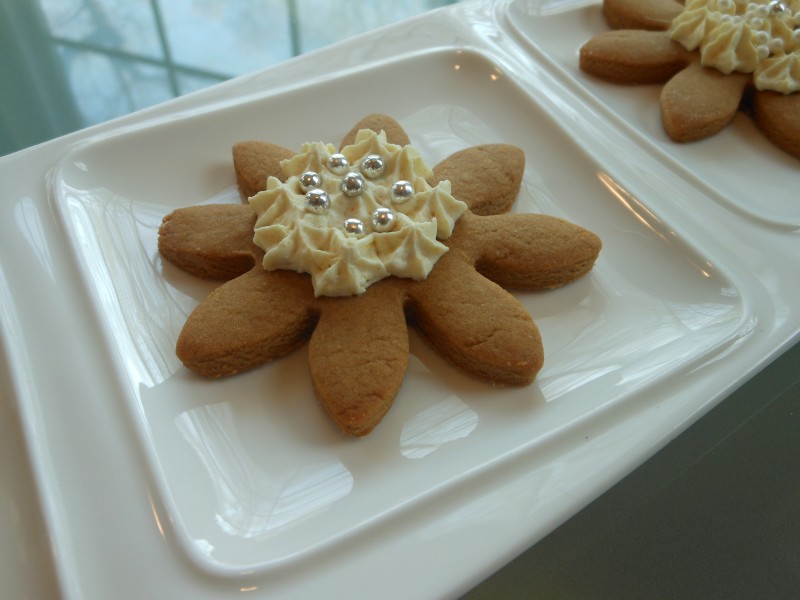 One of my favorite yoga instructors, Angela Phillips, avoids sugar.  Feeling spring in the air and having recently purchased cute little flower-shaped cookie cutters, I wanted to take her a  "happy" to class this morning.  So, I searched online for some sugar-free roll-and-cut cookies made with maple-syrup and/or molasses, but didn't find what I was looking for, so I had to wing it which, honestly, is more fun anyway.
Knowing that granulated sugar aerates (vegan) butter as you beat it together, I figured that the absence of sugar might make for a heavier cookie.  So, I incorporated a couple of tablespoons of cornstarch to lighten the dough–lovely!  A bit of baking soda provided extra insurance that the texture would be perfect.  Other than that, I found that 2 tablespoons of molasses to 6 tablespoons of maple syrup was an ideal proportion to prevent the molasses from hogging the limelight.  And that a little vanilla and almond extracts rounded out the flavor.  In winter months, you can spice these cookies up with cinnamon, cloves, ground ginger, and so forth.  But, for April, I didn't really want those warm spices and the cookies are delicious without.
Feeling very proud of myself, as I got ready to decorate them, I suddenly realized that the only frostings I know how to make are made with sugar, most frequently, confectioner's sugar.  Wracking my brain, I ultimately decided on whipped (vegan) cream cheese sweetened with a little maple syrup and flavored with a little vanilla and almond extracts plus lemon zest was perfect.  Sort of like cream cheese on a bagel.  And the consistency still allowed me to use my piping bag for an extra-pretty touch.  
Enjoy these sugar-free beauties all year…starting now!
Cookies:
1 cup vegan butter
1/4 cup plus 2 tablespoons maple syrup
2 tablespoons unsulphered molasses
1 teaspoon vanilla extract
1/2 teaspoon almond extract
2 tablespoons cornstarch
2 teaspoons baking soda
Pinch salt
3 cups unbleached all-purpose flour (I actually prefer white whole wheat)
Optional: ground spices like cinnamon, cloves, ginger
Preheat oven to 350 degrees and line two cookie sheets with parchment paper or Silpat.  Using an electric mixer, cream butter until fluffy.  Add maple syrup, molasses, and vanilla and almond extracts, and continue creaming until thoroughly incorporated.  Add cornstarch, baking soda, a pinch of salt and 1 cup of flour and incorporate on lowest speed of mixer or by hand.  Add remaining flour (and spices if using any), 1 cup at a time.  Flour work surface and, using about one-quarter of dough at a time, roll to a 1/4 to 1/3-inch thickness.  Cut out with cookie cutters, arrange on prepared cookie sheets, and bake for 10 minutes.  Cool completely on wire racks and frost as desired.  If using the cream cheese "frosting" below, store frosting cookies covered in refrigerator.  I like to store them in a shallow container so that the plastic wrap doesn't smear the frosting.
Sugar-Free "Frosting"
8 ounces vegan cream cheese
1 tablespoon maple syrup
1/4 teaspoon vanilla extract
1/8 teaspoon almond extract
Zest of 1 lemon
Optional: Food coloring/dye if desired, natural preferred and dragees
Using an electric mixer, cream all ingredients together until fluffy and pipe onto cookies as desired.  Cover and refrigerate any leftover frosting.