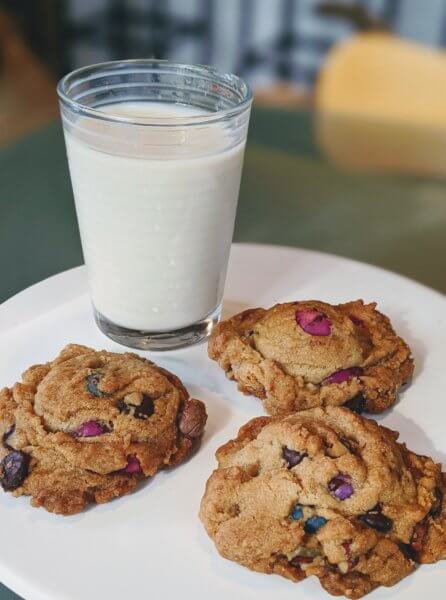 Yield: 3 dozen small or 1.5 dozen large cookies
For some reason, probably all Pinterest's fault, I was craving M&Ms cookies and bars. Pinterest can ignite an obsession like nothing else.
But I learned the hard way not to order Unreal brand chocolate-covered peanuts, basically a vegan M&M, from Amazon in July and Southeastern Virginia. They arrived like this.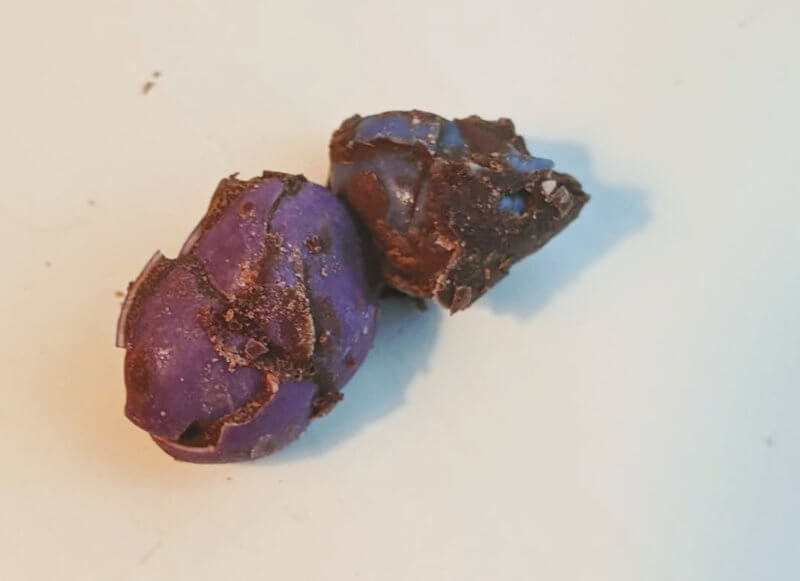 Out of three 5-oz bags, only about 50 of the candies were usable–the rest were a melted, cracked, and clumped mess. The upside is that the candies are a beautiful color and taste delicious, so I would buy them again, just in the fall or perhaps directly from the company.
With enough candies to make a half batch of cookies, that is what I did and it was worth it. Besides, I don't need a lot of cookies around tempting me, but if you are unable to purchase these candies or the equivalent in the grocery store, you might want to wait until a cooler month unless it happens to be cool where you live. And if the latter, lucky you!
My recipe includes simple directions I learned recently for creating a perfect bakery style shaped cookie every time, provided you make the large variety because it takes two scoops.
However you scoop them, you will love them, if you can prevent yourself from eating all of the dough first!
M&M Cookies (vegan & plant-based)
1/2 cup vegan butter
1/2 cup vegetable shortening
1/2 cup brown sugar (I like dark brown)
1/2 cup granulated sugar
2 teaspoons vanilla
1 teaspoon baking soda
2 1/4 cups all-purpose flour
2 to 4 tablespoons non-dairy milk
1/2 cup vegan chocolate chips
1/2 cup vegan M&M style candy
1/2 cup broken pecans or peanuts
Preheat oven to 350°. Line a baking sheet with Silpat or parchment paper. In bowl of electric mixer, cream together butter, shortening, both sugars, vanilla extract, and baking soda. With mixer on medium to low speed, beat in flour in three portions, with 1 or 2 tablespoons milk in between each, scraping down bowl as necessary. Avoid over beating. With mixer on lowest speed or by hand, mix in chocolate chips, candies, and nuts. Using a one tablespoon scoop, make small cookies by placing one scoop about two inches apart in rows. To make bakery style large cookies, after placing one scoop onto baking sheet, put a second scoop in the center and press down very firmly. Big small cookies for about 8 to 10 minutes and large ones for about 12 to 15, or until golden brown.
#vegan #veganrecipes #veganfoodshare #veganfoodporn #plantbased #plantbasedrecipes #plantbasedfoodshare #plantbasedfoodporn #veganMandMcookies #plantbasedMandMcookies #vegancookies #plantbasedcookies