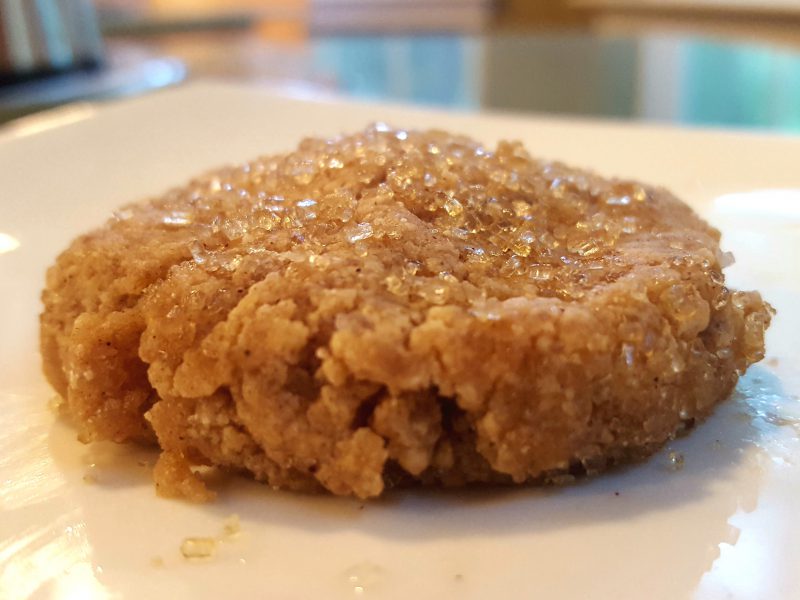 For the first day of school this year, I made my Advanced Placement and Advanced Art students my favorite autumnal cookie: chewy Lemon – Ginger cookies.  A hit!  Even picky Bob loves them.
So, with Hurricane Florence bearing down on us and the likelihood of widespread power outages (read: only being able to use the microwave with our generator), I decided I better quickly test my formula for a ginger version of my single vegan microwave cookies.
It worked beautifully.  These aren't as big as my others because they lack chocolate chips and/or nuts. So count on this serving just one person.
But count on making them–like the others– over and over again.
Recipe:
2 tablespoons + 2 teaspoons flour (I use white whole wheat)
2 + 1 tablespoons Stevia or Demerara sugar ( I highly recommend Demerera, as the dough needs that depth of flavor to taste like a true ginger cookie)
1/8 teaspoon ground cinnamon
1/2 teaspoon ground ginger
1 tablespoon vegan butter, melted or not
Oprional: 1 teaspoon Chia or flax seed meal
1 teaspoon non-dairy milk (I use soymilk)
2 drops vanilla extract
1 drop almond
A few grains sea salt
In a small bowl, mix together all ingredients, using only 2 tablespoons of the sugar, with your fingers. Roll into a ball,  roll the ball in the remaining 1 tablespoon sugar–you will have extra–place on a microwave-safe plate, and press gently to flatten into a disk about 1/2-inch thick . Cook at full power for one and a half minutes. Depending on your microwave's power, you might have to adjust cooking time. Let cool slightly before devouring.
#vegan #veganrecipes #veganfood #veganfoodshare #veganfoodporn #plantbased #plantbasedrecipes #plantbasedfood #plantbasedfoodshare #plantbasedfoodporn