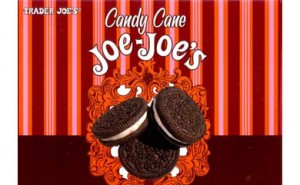 (Please note that the new 2017 gluten-free version of these cookies, in a different color box, contains egg white powder.)
Yesterday afternoon, I had just left the farmer's market with a bag full of super-healthy produce, and needed to stop by Trader Joe's for a few remaining items on my list.  But, though, my grocery bag was looking very virtuous, I was thinking impure sugar-laden thoughts.
I prefer homemade cookies any day of the week, but I was jonesin' pretty badly for something sweet on the fly.  We had just come from a Friday night stay at the rustic-elegant Sanderling Inn in Duck, North Carolina, which serves tea and homemade cookies in the afternoon.  How I would have loved some cookies with my tea after our 4-mile walk on Friday, but alas, they were off-limits.  So, I came home with cookies on my mind.
Therefore, at TJ's, I detoured down the cookie aisle in search of something sweet and vegan.  I must have picked up every box on that aisle to read the list of ingredients only to be met with whey, milk powder, eggs, butter, and all the rest of it.  Finally, I picked up the least likely looking box and–Eureka!–all vegan.  It turns out that Trader Joe's brand of Candy Cane Joe-Joe's in their cheery holiday-striped box are vegan approved!
Think Oreo's, but with a peppermint filling.  So, while you probably won't want to serve these at your next party, you might want to tuck a couple into you or your child's lunchbox, or serve up a little quasi-guilty pleasure at a party-for-one when nobody's looking.