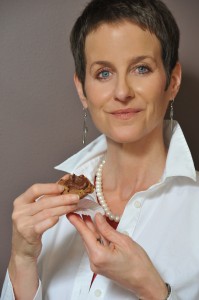 I am a seasonal cooking devotee as you can see from The Blooming Platter Cookbook.  But I love perennial ingredients like chocolate year-round.
In this photo from the current issue of VEER Magazine, I'm holding one of my newest sweet treats: Vegan Italian Chocolate-Nut Thumbprint Cookies.  We wanted to include a photo showing that vegans don't only eat vegetables, so we shot some of me with this cookie.
The inspiration for the recipe is bittersweet, as it came from a tray of cookies that was delivered to my sister-in-law's house on the occasion of my mother-in-law, Terry's, passing.  (People were so generous: you have never seen so much food in your life!)  I had to sample this particular non-vegan cookie for research.  It looked beautiful and I needed to know what it tasted like so that I could try to hit the mark….sorry!
The first batch went down the disposal, literally.  I hated to be wasteful, but they were a disaster.  My next riff wasa big hit at the Vegan Virginia Beach Bake Sale (as was everything that members brought, especially various cupcakes!).  So I made them again recently for our wonderful administrative assistants at Princess Anne High School.  I put 2 or 3 in tiny Chinese carry-out containers as gifts for all of them during "Administrative Assistants Week."
One of the women, Susan Barnes, even asked for the recipe to share around.  She likes the cookies crumbled up in her yogurt(!).  But she made me promise that there was no tofu in them.  We have a running joke about tofu; it's not her favorite.
I plan to make a batch of these cookies for the "Incredible Edibles" book-signing and launch party on Saturday night.  If you're in the local area, come taste test!  If not, whip up a batch for yourself and be prepared to have a new favorite!
Yield: 36 Cookies
Cookies:
1 cup vegan butter (I like Earth Balance)
1/2 cup confectioner's sugar
2 tablespoon natural sugar
2 tablespoons cocoa powder
Pinch sea salt
1 teaspoon vanilla
1/4-1/2  teaspoon almond extract
1 tablespoon water
2 cups white whole wheat flour
2 cups finely chopped pecans
Preheat oven to 325 degrees.  Line1 or 2 baking sheets with Silpat.  In the large bowl of an electric mixer, cream together butter and both sugars.  Beat in cocoa powder, salt, both extracts, and water.  Beat in flour, one-half cup of flour at a time, beating only enough to incorporate.  Avoid over- beating.  With the mixer on low speed, blend in nuts.  Scoop by 1 tablespoon of  dough onto prepared baking sheets.  Flatten into a disk with the bottom of a glass.  Press your thumb into the center of each cookie twice, side by side, slightly overlapping, to make a fairly large depression.  Bake about 16 minutes.  If using two baking sheets on two racks, switch after 8 minutes.  Remove from oven and cool completely on wire racks as soon as they are firm enough to handle.
Frosting:
1/2 cup vegan butter (I like Earth Balance
3 tablespoons cocoa powder
1 cup + 3 tablespoons confectioner's sugar
1/4 teaspoon vanilla
1/8 teaspoon almond extract
In the bowl of an electric mixer, cream all ingredients together until well-combined and fluffy.  Using a small spoon, divide the frosting evenly among the cookies, filling the depression.  Store in the refrigerator in an airtight container.