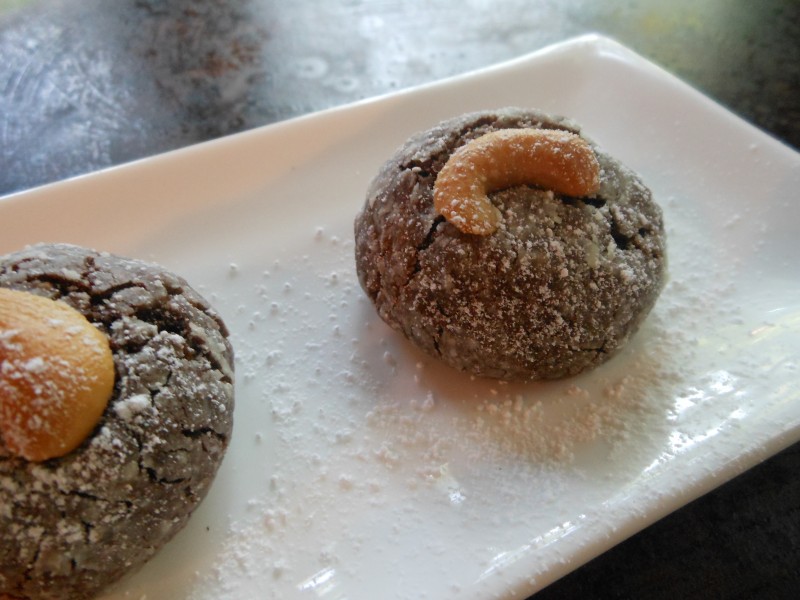 Yield: 2 dozen cookies
The only thing better than a moist chocolate cookie is one with a hint of cherry flavor, a juicy maraschino cherry tucked inside, and a buttery cashew on top.
Quite deceiving in appearance, the exterior of these cookies keeps a secret of the bright red maraschino cherry surprise hidden within.
Simple to prepare but quite fancy in appearance, these cookies are equally at home in school lunch boxes or on cocktail party trays.
Sunday night, I served them to our dear friends and houseguests, Juliane and Marc Curvin.  Health conscious, like me, we eacg enjoyed one cookie perched in a stainless steel Chinese spoon, all lined up on a long and narrow contemporary white rectangular plate.  Neither they nor my husband are vegans or even vegetarians, but all thought these treats were the perfect 1- or 2-bite sweet ending.
8 ounces vegan chocolate chips, melted
1/2 cup vegan butter
1 cup turbinado sugar (or any granulated sugar)
1 teaspoon vanilla
2 tablespoons maraschino cherry juice
1/4 cup cherry liqueur (or substitute 1/4 cup maraschino cherry juice)
2 tablespoons non-dairy creamer or non-dairy milk
2 cups white whole wheat flour (or unbleached all-purpose)
Pinch sea salt
24 maraschino cherries, drained
approximately 1/2 cup confectioner's sugar
24 lightly salted and roasted cashew halves
Preheat oven to 375 degrees.  Line a baking sheet with Silpat.  In a medium bowl, melt chocolate in microwave or over simmering water.  Remove from heat and stir in butter until it melts.  Add sugar, vanilla, cherry juice, cherry liqueur, and non-dairy creamer and whisk to combine.  Whisk in half of flour and then incorporate remaining flour using a fork.  Dough will be somewhat stiff.  Using a small scoop, form a ball of dough.  Using your thumb, create a depression in the center and place a maraschino cherry inside.  Press dough around it to completely encase and gently reashape into a ball.  Roll in powdered sugar and place on prepared baking sheet.  Place a cashew half on the top pressing down ever so slightly to adhere.  Repeat with remaining dough, cherries, confectioner's sugar, and cashew halves, placing balls about 2 inches apart.  Bake 12 minutes.  Let cool slightly on baking sheet and then remove to a wire rack to cool completely.  Dust with additional confectioner's sugar before serving.