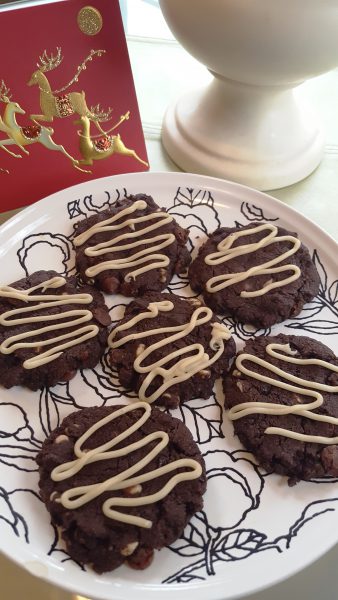 Yield: approximately 2 dozen cookies
Just in time for the holidays are these handsome and festive cookies appropriate for even the most gluten intolerant on your guest list.
I am not a gluten-free baker but, occasionally, I make treats for my high school art students.  And, in my large Advanced and AP Studio class of 31 students, I learned that I have one girl with a gluten sensitivity.  So, feeling badly about her not being able to indulge in the treats I shared with them, I decided to experiment.
A few years back, I created a recipe for gluten-free cookies made with white bean puree and chickpea flour. They were delicious, but not as handy to make as if they didn't call for the white beans.  And, I recently learned that my small neighborhood Kroger no longer carries chickpea flour, though they seem to stock every other kind of flour imaginable.  So, I chose one that was less expensive than most and that I thought might have a similar texture to the chickpea flour, namely brown rice flour.  Good decision.
Whie some gluten-free baked goods call for special flour blends, xantham gum, egg substitutes, and the like, I wanted mine to be straightforward and absent of ingredients that most bakers wouldn't have on hand.  As a result, these absolutely delicious and beautifully-textured cookies were born.
I had found, through previous experiments with gluten-free cookies, that adding almond extract, in addition to vanilla extract, helps mellow any "off" taste that results from using flours that are stronger tasting than all purpose white or white whole wheat.  But, it occurred to me that a teaspoon of espresso powder might further counteract those sharper flavors of some of the alternative flours without lending a pronounced coffee flavor.  And I was right.
As for texture, these are a little crispy and ever-so-slightly sandy–like the commercial "Pecan Sandies" of my youth–which everyone who has tasted has found very appealing.  And I hope you do.
I served these with Prosecco to guests who stopped by after a concert.  It was a lovely pairing and a special way to end the evening.
1/4 cup vegan butter (I use Earth Balance)
1/4 cup vegetable shortening
1 cup demerera sugar (or 1/2 cup granulated and 1/2 cup brown sugar)
1 teaspoon vanilla extract
1/4 teaspoon almond extract
1 teaspoon espresso powder (or coffee/instant coffee ground to a powder in a spice grinder)
1/8 teaspoon salt
1 cup brown rice flour (I use white whole wheat when not baking gluten-free)
1/4 cup cocoa powder (I use Hershey's Special Dark)
1 teaspoon baking powder
1/2 teaspoon baking soda
2 tablespoons non-dairy milk (or up to 4)
1/2 cup vegan chocolate chips
1/2 cup vegan white chocolate chips (I ordered these online) + 1/4 cup additional (optional)
1/2 cup chopped dried cranberries (I found a bag of pre-chopped ones) + 2 tablespoons additional (optional)
Line a baking sheet with Silpat or parchment paper; set aside.  Preheat oven to 350 degrees.  Beat butter and shortening until fluffy.  Beat in sugar and continue beating until well creamed.  Add extracts, espresso pwder, salt, flour, cocoa powder, baking powder, and baking soda, and mix on medium-low speed just until well-combined, scraping down sides of bowl as necessary.  Mix in the non-dairy milk, adding an additional tablespoon or two if necessary, as the brown rice flour is very absorbant.  On lowest speed, mix in both typs of chips and dried cranberries.  Using a tablespoon or small scoop, arrange mounds of dough about 2-inches apart on prepared baking sheet. Flatten with your middle three fingers to about 1/2-inch thick.  Bake for 10-15 minutes or until desired doneness is reached.  Remove baking sheet to wire rack and allow cookies to cool completely before removing to a serving platter.  If desired, drizzle with 1/4 cup white chocolate chips, melted; I use a pastry bag for this task.  If more color is desired, press a couple of tablespoons of dried cranberries into drizzled white chocolate, distributing among cookies.