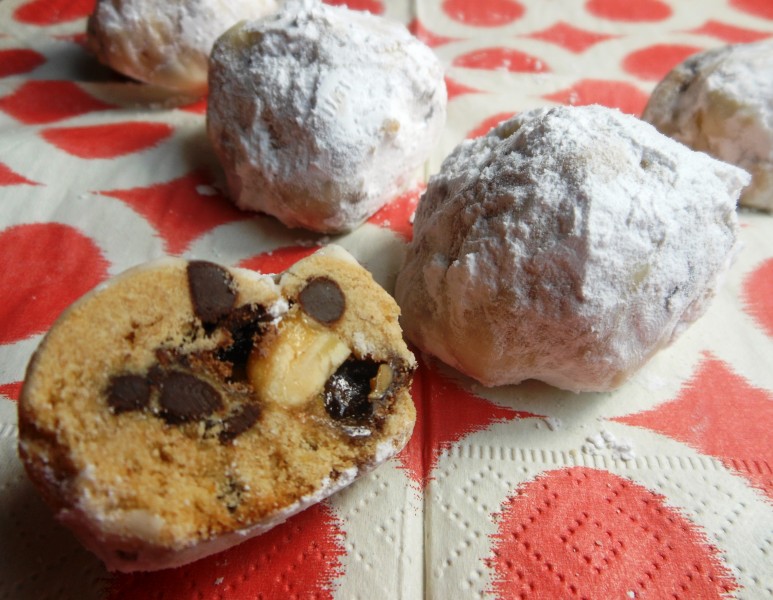 Yield: 2 dozen cookie balls
I am slowly working my way through a box of seven different candy bars from the good folks at Go Max Go Foods, makers of vegan candy bars that will remind you of some of your childhood non-vegan favorites, but are no mere knock-offs.
As if the flavors and textures alone weren't enough to tempt, their commitment to ethical and non-GMO sourcing is the icing on the cake, er, the coating on the candy bar.
In this recipe, cookie dough and Jokerz candy bars "complete each other" like Batman and his nemesis for a wildly delicious double dose of peanuty, nougatey, chocolatey goodness.
2 Go Max Go "Jokerz" candy bars, sliced lengthwise and then across to create 12 pieces each
1/2 cup vegan butter
2 tablespoons crunchy "natural" peanut butter
1/2 teaspoon vanilla
1/4 cup powdered sugar + 1/2 cup additional powdered sugar (for rolling)
3/4 cup all-purpose flour (I use white whole wheat)
1/8 teaspoon sea salt
1/2 cup mini vegan chocolate chips or 1/2 cup chopped peanuts
Preheat oven to 400 degrees and line a baking sheet with a silicone mat or parchment paper.  Slice each candy bar lengthwise and then across to create 12 pieces each.  Using an electric mixer, cream together butter, peanut butter, and vanilla.  Beat in 1/4 cup powdered sugar until fluffy.  With mixer on low, mix in flour and sea salt followed by chocolate chips or peanuts.  Shape generous tablespoons of dough around each candy bar piece to form a ball and place cookies about 2-inches apart on prepared baking sheet.  Bake for approximately 8 minutes or until set and light golden brown, watching carefully during the last minute or two.   Avoid over-baking or they will split open and the candy bar will ooze out.  Cool for 5 minutes.  Place remaining 1/2 cup powdered sugar in a shallow bowl and roll each cookie in it to coat.  Place cookies on wire rack to cool completely.  Roll again in powdered sugar before serving, if desired.