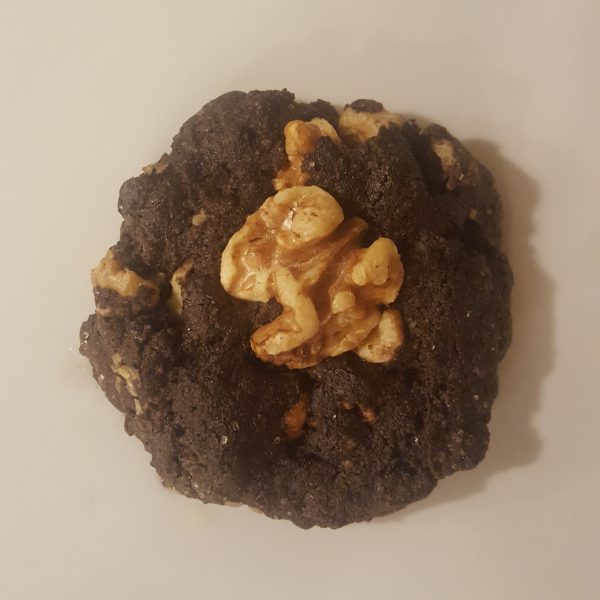 Yield: 1 delicious cookie
You knew it was coming, right?  A chocolate version to add to my growing repertoire of single-serving microwave cookies.
These cookies are all are ideal when you have a craving that needs satisfied pronto with almost no mess to clean up.  Plus they won't leave you with a whole batch hanging around testing your willpower.
Vegan Microwave Chocolate-Walnut Cookie
1 tablespoon vegan butter (I use earth Balance), melted or not (melted is a little easier to mix)
2 tablespoons Demerara sugar
3 tablespoons plus 2 teaspoons all-purpose flour  (I use white whole wheat)
2 teaspoons cocoa powder ( I used Hershey's Special Dark)
1 teaspoon non-dairy milk
1/8 teaspoon vanilla extract
1 to 2 drops almond extract
2 tablespoons broken walnuts (or other nuts) + 1 walnut half for garnish
In a very small bowl or cup, mix together the butter, sugar, flour, and extracts with your fingers. Mix in the nuts. Shape into a cookie about 1/2 inch thick in the center of a microwave-safe plate. Microwave for about 60 seconds. Check for doneness in center. If it needs a bit more, microwave for another 20 to 30 seconds. You can enjoy it warm and it will be somewhat soft, or you can let it cool a bit and it will be firm enough to lift.
Note: all microwaves are different, so you might want to start out with just 45 seconds and continue to cook in 10 second increments. Cook's choice.
#vegan #veganrecipes #veganfood #veganfoodshare #veganfoodporn #plantbased #plantbasedrecipes #plantbasedfood #plantbasedfoodshare #plantbasedfoodporn