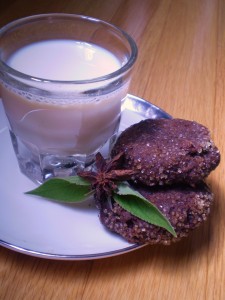 Yield: 3 dozen cookies
This is the second iteration of what has become an incredibly adaptable "chewy chocolate cookie."  Actually, it's the third version because the first was a "veganization" of a recipe from Cook's Illustrated.
This one was inspired by a group I chaired during the 2010-2011 school year: The Teacher Forum Leadership Council (TFLC).  I had wanted to create "TFLC Cookies" as favors for our end-of-year dinner, but simply didn't have time.  So this recipe is a posthumous tribute to a group of teachers–and even a few administrators–who selflessly volunteer their time to further the mission of the Virginia Beach City Public Schools, especially through the presentation of a National Speakers Series and follow-up workshops.  I was so impressed all year by how these men and women never expected someone else to do the work; they always stepped up to shoulder their share of the responsibility with good humor and good will.
It was a little tricky coming up with ingredients whose names began with each letter in the organization's name and tasted good together.  But my friend Sheila Giolitti, quite a foodie herself, tasted one recently and proclaimed that TFLC Cookies should definitely be in Volume II of The Blooming Platter Cookbook.  I hope you agree.
2 limes, zested (set zest aside)
1/2 cup fresh lime juice (warm limes for about 10 seconds in the microwave and then gently roll on the counter in order to extract the most juice)
4 tea bags (I like an Earl Gray or an English Breakfast, but experiment!)
1 cup vegan butter, room temperature (I like Earth Balance)
1/2 cup canola oil
1 1/3 cups natural sugar plus 1 cup for coating
1 cup pure cane syrup or, if you dare, dark corn syrup
1/4 cup molasses
2 teaspoon vanilla
3 1/2 cups unbleached all purpose flour (or white whole wheat; my favorite white flour substitution)
1 cup Dutch processed cocoa powder
1 teaspoon baking soda
1/2 teaspoon salt (if using unsalted butter)
1-2 teaspoons Five Spice Powder (or more to taste; I like a pronounced flavor that still makes people wonder exactly what it is)
8-9 ounces vegan semi-sweet or bittersweet chocolate chips
Line two cookie sheets with Silpats or parchment paper and set aside. In a small bowl or cup, place the lime juice and tea bags.  Heat them for about 1-2 minutes in the microwave and then set aside to steep for 2 minutes.  Squeeze bags firmly without breaking them to extract all of the tea flavor.
In the bowl of an electric mixer, place butter, oil, and 1 1/3 cup sugar.  Reserve remaining 1 cup sugar. At medium to medium-high speed, cream mixture until well-combined and fluffy. Add cane syrup, molasses and vanilla and beat just a few more seconds to combine, scraping bowl, as needed. Mixture may look slightly curdled, but don't worry. Add remaining ingredients, except chocolate chips, but including lime zest, and beat on low speed, scraping bowl as needed, just until combined. Taste and mix in more five spice powder, if desired.  Add chips and beat on low just a few seconds to distribute.
Cover dough well and chill for half an hour, but no longer. Preheat oven to 375 degrees. Using a small scoop with a release lever, scoop out balls of dough about 1 1/2-inches in diameter. Roll in reserved 1 cup of sugar and place a generous 2" apart on baking sheets. Bake one sheet at a time for 4 minutes, open oven door and, using a spatula, quickly flatten each cookie slightly to 1/2-inch thick. Close the oven door and continue baking for 6 more minutes. DO NOT OVERBAKE. Cookies should be ever-so-slightly cracked, look a little moist and soft in the center, and be more set around the edges. Leave cookies on baking sheet and set on wire rack to cool for 5 minutes. Then, using a spatula, transfer cookies to the racks and cool to room temperature. Repeat with remaining baking sheet.  Store in an airtight container.